Raider softball wins 3 games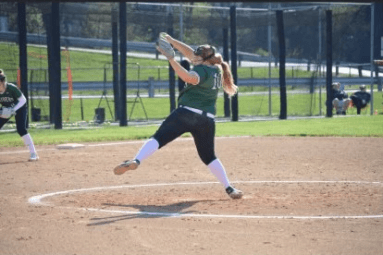 South Ripley softball returned to winning form last Wednesday and Friday nights, picking up three Ohio River Valley Conference wins.
The Lady Raiders started with a rare Wednesday night doubleheader, winning a pair at Milan in conference action. The two games were scheduled to make up for a prior game that had been rained out.
Ripley won game one 13-0 behind a two-hit pitching shutout and 14 hits on the night. The Lady Raiders led 5-0 through three innings before adding three runs in the top of the fourth and five runs in the top of the fifth, ending the game on a 10-run rule after Milan was blanked in the bottom of the fifth.
Hailey Brown hit her fourth and fifth home runs of the season and was 4-for-4 at the plate with a double, three runs and two RBIs. Alexa Heidt was 3-for-3 with a double, two runs and an RBI while Mady Tompkins and Ellie Waldron each had two hits. Tompkins had two runs and two RBIs while Waldron scored two runs. Cassie Franklin had a hit, two runs and four RBIs.
Karly Sargent and Erin Widener each had a hit for Milan.
Tompkins twirled the two-hit shutout in five innings of work. The South Ripley senior got the win and struck out 13 while walking one. Eleanor Honnert took the loss for the Lady Indians and allowed 13 runs -six earned- on 14 hits while walking six and striking out four.
Milan was able to score in game two but fell 12-2 in a game that lasted six innings. South Ripley led 7-0 before the Lady Indians scored two runs to temporarily cut the deficit to five runs. The Lady Raiders came back with a run in the bottom of the fourth and added four runs in the final two innings to earn another 10-run rule win.
Tied for the team home run lead with Brown heading into game two, Tompkins busted two home runs of her one in the nightcap and increased her single-season total to seven bombs. The junior was 3-for-4 with five RBIs and four runs scored. Waldron was 3-for-4 with an RBI, Brown was 2-for-3 with two runs and an RBI and Franklin was 1-for-3 with an RBI. Olivia Kavanaugh scored two runs.
Sargent was 2-for-3 for Milan with a run scored. Abby Moore and Chloe Hunter each had a hit and an RBI with Hunter scoring a run.
Waldron pitched the second game for Ripley and received the win, going six innings and giving up two unearned runs on six hits while striking out eight. Audrey Schmidt was the losing pitcher for Milan, going one and one-thirds innings and allowing six runs -four earned- on four hits with four walks and two strikeouts.
South Ripley finished up its three games with a 7-0 win at home against Southwestern (Hanover) on Friday night. The Lady Raiders led 4-0 in that contest through three innings and added a run apiece in each of the next three frames to pick up the shutout.
Not only was the game a shutout, but also a no-hitter tossed by Tompkins who was back inside the circle and dominated the Southwestern offense. Her no-hitter came on three walks, but the three were the only runners to reach as she fanned 16 batters through seven innings. Tompkins now has a record of 6-3 with a 0.85 earned run average and 121 strikeouts.
At the plate for South Ripley, Heidt, Franklin and Waldron each hit a double with Heidt going 2-for-3 with two runs and two RBIs and Franklin going 2-for-2 with an RBI. Waldron had an RBI and a run.
South Ripley (10-5, 8-2 ORVC) looked to force a tie atop the conference standings with a win over current leader Rising Sun on Monday. The Lady Raiders close out the regular season on Wednesday at home against ORVC foe Shawe Memorial.