Raiders, Bulldogs win JH tourney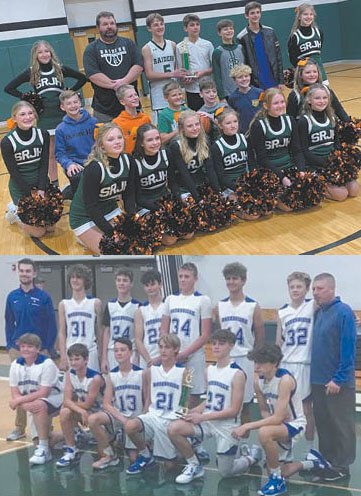 Submitted Photos
South Ripley's seventh grade boys team and Batesville's eighth grade boys won championships this past Saturday in a season-opening junior high basketball tournament played in Versailles.

The host Raiders ran away with the seventh grade crown, defeating Jac-Cen-Del 49-22 in the championship game. Eli Gilpin recorded a double-double of 14 points and 12 rebounds to lead South Ripley while Blake Gunter also put up a double-double, scoring 11 points and adding 10 rebounds. Landon Werner was in double figures with 10 points, Trigg Hostetler scored eight points and Keeton Miller put in five points.

Parker Pindell led Jac-Cen-Del with six points while Conner Yeggy and Will Meyer each scored five points. Max Harrison and Dylan Ricke scored two points apiece and Conner Patrick added one point.

South Ripley defeated Batesville 46-21 in the seventh grade opening round, using its defense to keep the Bulldogs in check early before giving way to a big scoring run in the second half. Werner led with 14 points, five rebounds and a blocked shot while Gilpin went for 13 points and five boards. Gunter scored six points and Abe Speer put up three points before an injury forced him out of the game.

Camden Kaiser scored 10 points for Batesville and Carson Meyer added five points in the loss. Jackson Peetz finished with four points and Eli Denni scored two points.
Jac-Cen-Del won its opening round game on a buzzer-beater, defeating Waldron by a 30-29 final score. Meyer led all scorers with 16 points, Yeggy added seven points and Pindell scored six points. Sam Johnson put in a lone free throw.

A high-scoring eighth grade championship affair saw Batesville come out on top 61-45 over Jac-Cen-Del. The Bulldogs started the day with a win over South Ripley while the Eagles were a 37-28 winner over Milan in the opening round.

A pair of Eagles hit double figures in the title game as Blake Wagner went for 18 points and Darian Grieshop totaled 16 points. Neil Sullivan had five points, Brody Huff scored four points and Beckham Comer contributed two points. In the opener, Grieshop led all scorers with 22 points, Wagner had eight points and Huff and Comer scored six points and two points respectively.

Eighth grade statistics for Batesville, South Ripley and Milan were not provided by time of print.