Raiders fall in baseball debut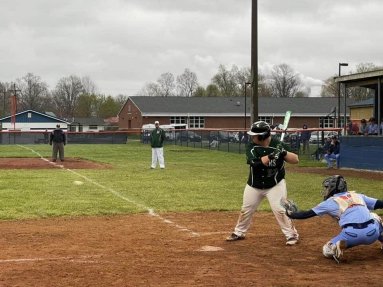 PHOTO COURTESY OF SR BASEBALL
An inexperienced South Ripley roster and a brand new coach did not fare well in their 2022 high school baseball debut as the Raiders fell 13-0 at Switzerland County on Monday night in Ohio River Valley Conference action.

The Raiders entered the season with just two full-time starters back from a 15-7 campaign a year ago that resulted in a Class 2A Sectional 45 championship. Monday night served as game one for new head coach Jeff Greiwe who had served previously as a longtime varsity assistant and junior varsity coach for the program. He had previous head coaching stints at both Milan and South Decatur.

The host Pacers wasted no time in taking advantage of Ripley's inexperience and scored all 13 of their runs in the first two innings. Switzerland County went off for eight runs in the bottom of the first inning and the final five were put on the scoreboard in the bottom of the second. The Raiders put just three runners on base and mustered up only one hit as the game ended on the 10-run mercy rule in the fifth frame.

South Ripley's lone hit came off the bat of Ryan Gorrell while Braydon Sides and Brayden Dilk each drew a walk. On the plus side, the Raiders did make contact at the plate, recording only three strikeouts against the Pacers.
Switzerland County's offense got paced by a Bryce Turner grand slam as he finished 2-for-2 with four RBIs and three runs scored. Kaleb Koons went 2-for-3 with a run and an RBI while Cam Craig hit a triple and drove in a run.

The pitching loss for the Raiders went to Gabe Block who made a quick exit after allowing three-runners to reach base to start the bottom of the first inning. With those runners on, Block was credited with giving up three earned runs on no hits. The best pitching performance for South Ripley went to Sides who threw the last two innings and gave up no runs on four hits with three strikeouts.

Roman Hite, a former South Ripley product, went the distance for Switzerland County and earned the victory on the mound. Hite, a freshman, allowed one hit and no runs with three strikeouts and two walks.

South Ripley (0-1, 0-1 ORVC) is at home on Saturday against North Decatur and returns to the ORVC slate on Monday against Southwestern (Hanover) in a matchup against the defending conference champion Rebels. The game will also serve as a rematch of last year's Sectional 45 title tilt won by the Raiders.