Raiders go 2-1 at M-Town Tourney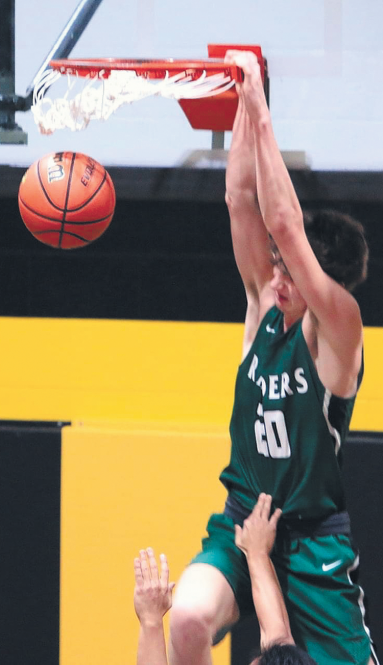 Photo by Lori Samples
South Ripley strayed away from hosting its own boys basketball holiday tournament this year but the Class 2A No. 11 Raiders made the most of their new destination, finishing 2-1 at the Morristown Tournament this past week.

The Raiders competed against unbeaten Class 2A No. 7 Covenant Christian in the tournament opener on Tuesday but ultimately the measuring stick game went to the Warriors, winning 69-52 to give South Ripley its first loss of the year.

South Ripley trailed just 30-24 at halftime but the Warriors pulled away in the third quarter, leading by 14 points before adding to the margin in the final frame. Jaden Peetz led the Raiders with 20 points and 11 rebounds including nine points in the fourth quarter. Cody Samples added 15 points in the loss.

The rest of the tournament saw the Raiders finish out strong, winning their last two games including a 72-35 win over Waldron in the Tuesday nightcap of the tournament. South Ripley led by 10 and blew the game open with a 16-4 run in the second quarter for a 40-18 halftime advantage. Ripley ended the game on runs of 18-8 and 14-9.

Much of the same can be said for South Ripley's Wednesday tournament finale that saw the green and white pick up a 76-53 over Randolph Southern. Ripley's offense scorched the nets for 28 first quarter points and a 21-8 second quarter run put the lead at 49-21 by intermission. The Raiders led by as many as 29 points in the second half before settling on the 23-point final margin.

Nick Schwarte connected on five 3-pointers and led with 20 points in the Waldron game while Samples scored 17 points and Peetz added 12 points. Blake Volz grabbed a team-high 11 rebounds and had five assists. Samples led all scorers with 32 points against Randolph Southern and also had six assists and five steals while Schwarte chipped in 12 points and Zach Gentile scored 11 points. Volz had eight assists and four steals.

Covenant Christian won the Morristown Tournament, beating Lawrenceburg in the semifinals 85-58 before defeating South Dearborn 86-68 in the championship game.

South Ripley (7-1) hosts Batesville in the opening round of the Ripley County Tournament on Wednesday night.