Raiders lose regional heartbreaker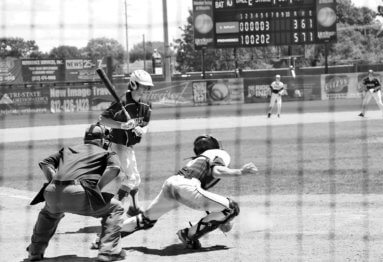 Photo by Kim Jolly
South Ripley baseball found itself battling back from another postseason deficit but the final blow delivered proved to be even too much for a final inning threat as the Raiders fell to Providence 5-3 in the IHSAA Class 2A Regional Semifinal at Bosse Field in Evansville on Saturday afternoon.
The Raiders entered the weekend with two regional championships in program history. Its last two regional losses have both come to Providence after the Pioneers beat South Ripley 5-1 in the Class 2A Regional Championship in 2007.
Providence (21-7) wasted no time in striking, putting up a run on an RBI in the bottom of the first inning and adding two more runs in the bottom of the fourth. But South Ripley's bats woke up in the top of the sixth and brought new life to the contest. Cody Samples smacked Bryce Franklin home with a hit to put up Ripley's first run and Logan Eggleston soon followed, bashing a single to right center field that scored Samples and Brady Linkel, tying the game at 3-3.
The tie however was short lived as Providence followed with two runs in the bottom of the sixth on a pair of hits, leaving the Raiders to battle a frame later in the final inning. South Ripley did just that when Gabe Block led off with a single and Brayden Dilk walked to put two runners on with one out .
Block though would be picked off an at-bat later at second base but Franklin's third hit of the day again put two runners on, this time with two outs. However the Raider magic was put to rest when Linkel struck out on a foul tip, ending South Ripley's postseason run.
Despite the loss, the Raiders battled their way into a dog fight on Saturday, posting seven hits for the afternoon. Franklin turned in a 3-for-4 day with a run scored while Eggleston was 1-for-3 with his two RBIs. Samples had a run and an RBI to go with his lone hit of the day.
Providence's 4-5-6 punch of Casey Kaelin, Jake Rodski and David Newbanks each had two hits and combined for three RBIs and three runs scored. The trio each hit a double with Kaelin adding a triple to the cause. Max Beatty drove in two runs with a hit.
On the mound, Linkel went the distance in a valiant effort but was tagged with just his second loss of the season. The senior went six innings and allowed five runs -three earned- on eight hits with four strikeouts and a walk. His counterpart, Ray Reisinger, allowed three unearned runs on seven hits and earned the win. Reisinger tied his single-game school record of 16 strikeouts and walked just one batter.
Providence found itself winning the regional championship on Saturday night, coming back from an early deficit and defeating North Posey 8-6 to advance to the Class 2A South Semi-State this weekend against University.
South Ripley finishes its season with a 15-7 record and goes down as just the eighth team in program history with a sectional championship.