Raiders outlast Chargers 53-51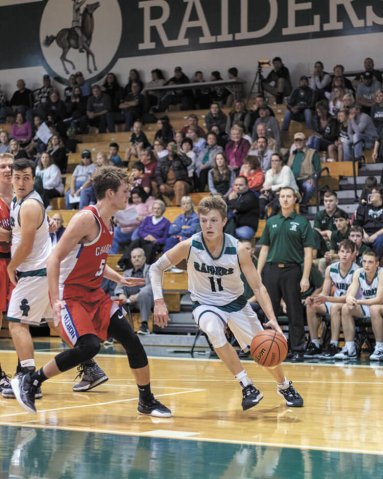 JARED ROGERS PHOTO
The South Ripley Raiders varsity basketball team hosted North Decatur for a non-conference game on Saturday, Dec. 7. The home team held on to a late lead and won the game 53-51, improving their season record to 2-1. North Decatur dropped to 0-2 with the loss.

SR head coach Tyler Theising said, "Making shots down the stretch," made the difference in the game.

The Raiders led by as many as eight points midway through the final quarter. The Chargers kept battling however, and drained a couple of three pointers late that brought them back into the mix.

South Ripley maintained their composure as the visitors charged. Five Raiders players scored in the fourth quarter, led by Cody Samples' eight points in the final eight minutes.

The score stood at 52-51 with one minute remaining. SR implemented ball control efforts down to about 30 seconds, when senior Aaron Greiwe was sent to the foul line. Greiwe hit one free throw, and the Raiders defense held off two final shot attempts by the Chargers to claim victory.

"We finished well," Theising said of those final minutes. He commended his players for hitting their free throws and playing with confidence throughout the match.

In particular, the Raiders showed off the ability to drive to the rim with success throughout the game. Junior Jaden Peetz scored six points in the first quarter, four off of drives and two free throws thanks to being fouled on a drive.

Later, it was Cody Samples who took it to the hoop on several occasions as the visitors attempted a comeback. Greiwe also scored most of his points through penetrating the Chargers defense and getting to the rim.

Samples led the team in scoring with 21 points, 19 of which were scored in the second half. Greiwe also notched double figures with 10.

Additional scorers for SR included: Peetz nine, Zach Gentile six, Sam Evans three, Eric Vickers two, Cory Ralston one, and Dakota Day one. The Raiders went 15-23 as a team from the free throw line.

Prior to the varsity match, the junior varsity Raiders earned a win, 54-47 in overtime. Quarter scores were 12-5 (SR) after the first, 17-15 (SR) at half, 30-28 (SR) after three quarters, and 42 all at the end of regulation.

The JV Raiders went 8-12 from the free throw line in overtime to help seal their victory. Blake Volz was 6-8 individually in that OT period.

The JV squad had three players in double figures, led by Nick Schwarte with 21 points. Other scorers included: Dalton Smith 12, Volz 10, Ryan Miller six, Simon Westmeyer three, and Clinton Patrick two.

South Ripley's boys host the 3A Brownstown Central Braves in Versailles on Saturday, Dec. 14. The Braves are currently 1-1 on their season.