Raiders run-rule Lady Rebs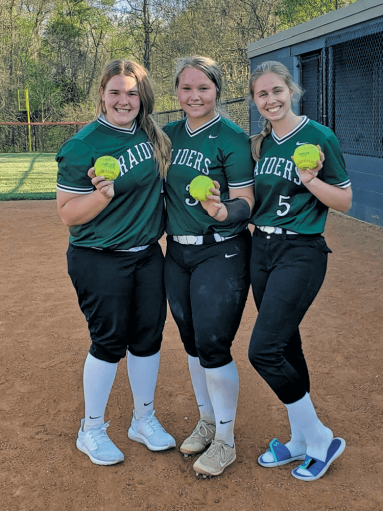 SUBMITTED PHOTO
South Ripley softball got three home runs and a dominant pitching performance en route to a convincing 10-0 at Southwestern (Hanover) on Monday in an Ohio River Valley Conference game.

The win is the first for the Lady Raiders in the ORVC after dropping a decision last week at Switzerland County.

Ripley was quick to strike in Monday's contest, scoring five runs off the get-go in the top of the first inning and following up with a run in the second to go up by a 6-0 score. After a lull in the third and fourth frames, the Lady Raiders came alive again, scoring four runs in the top of the fifth and ending the game by 10-run rule soon after.

Of the nine hits for South Ripley, three sailed over the fence as Mady Tompkins, Hailey Brown and Emily Campbell each drilled a home run. Brown and Tompkins each went 2-for-3 as Tompkins had three RBIs and two runs scored and Brown went for two RBIs and two runs. Ellie Waldron was 2-for-4 with an RBI and Brionna Linkel added a double and two runs.

Waldron limited Southwestern to just two hits and picked up the pitching win in a complete game victory. She struck out nine and walked one. Morgan Mahoney and Ashton Goode each had a hit for the Lady Rebels.

South Ripley (3-2, 1-1 ORVC) was scheduled to host Rising Sun in an ORVC game on Wednesday and hosts Trinity Lutheran tonight in a non-conference contest. They return to conference play on Friday at Jac-Cen-Del.