Raiders runner-up at Unified state match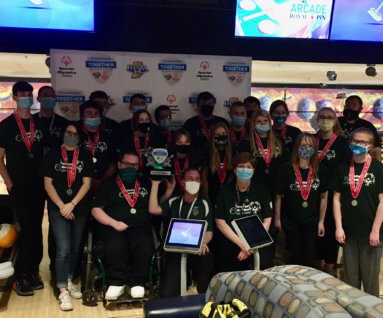 SUBMITTED PHOTO
South Ripley Unified Bowling nearly pulled off a second state championship in program history but the Raiders runner-up finish and record-breaking success still made for a historical day on the lanes as the team finished second at the 2021 Indiana Unified Bowling State Championship on Saturday at Woodland Bowl in Indianapolis.

As mentioned a couple of weeks ago, the unified bowling program is a makeup of a high school program and teams sponsored by Special Olympics Indiana. South Ripley won the sectional earlier this month to qualify for the nine-team field on Saturday.

South Ripley, the 2019 state champion, rolled a collective team score of 1799 to finish runner-up in the match while Valparaiso won the state championship with 1828. Carroll was third at 1317 while Twin Lakes and Fishers rounded out the top five with scores of 1268 and 1174 respectively.
Rounding out the field was Carmel in sixth at 1156, Perry Meridian in seventh at 1071, Blackford in eighth at 961 and North Knox in ninth at 685.

In regards to breaking down the match, South Ripley's boys rolled a 603 which was third among the state field and the girls team rolled a 571 which was second in the field. The Raider co-ed group bowled a state-best 625.

The state match consisted of a five-game series. South Ripley's 415 score in game two set a state unified record as did the 625 co-ed score, which is a five-game state record in that division. The Raiders also set a record in the co-ed division, setting the single-game scoring record with a 138 in Game 3. The school already had held the single-game girls scoring record with a 152 in 2019.

The state championship match was the third all-time in history after starting back in 2018.