RCHS president answers questions about facility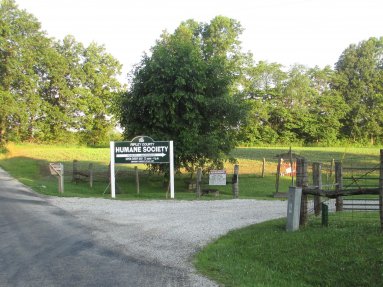 SUBMITTED PHOTOS
Robert Luken
GUEST WRITER
As President of the Board of Directors for the Ripley County Humane Society (RCHS), I am asked many questions about the operational details and services which we provide. This article will answer some of the frequently asked questions.

What makes the RCHS different from many other animal shelters located throughout southeastern Indiana?

The RCHS is a private non-profit animal shelter. It is neither maintained or operated by the governmental Councils or Boards of Ripley County so its animal intakes, adoption services, and other aspects of its mission extend well beyond the boundaries of Ripley County. RCHS self-regulates the population of animals that it accepts and cares for. The facility has strict guidelines about intakes of strays, abandoned, abused or homeless animals. When an animal is brought to the shelter either because the animal was found wandering about or surrendered for various reasons by its owner, the animal is given a thorough examination. It is not unusual for an animal to be taken to a veterinarian for an additional examination.

On the other hand, many county-operated shelters have little or no control regarding the number and types of animals they are expected to manage and often become overwhelmed by sheer numbers. Some animals retrieved by the animal warden may exhibit extremely aggressive behaviors and cannot be released due to threats to public safety. These animals must be euthanized.

Occasionally, some animals which are taken into custody are noted to be very ill, old and frail or suffering from prolonged neglect. Some may have extensive injuries. The county-managed shelter may have neither the space nor financial resources to provide expensive veterinarian services, and may lack the staff required to provide supportive medical care. Hence the animal may be euthanized essentially for financial reasons. Sadly, in other cases, if the animal is not reclaimed by the owner or adopted within a pre-established timeframe, the animal is euthanized. This arbitrary time may be as little as 5-7 days.

RCHS is a NO-KILL animal shelter. At the RCHS only in an extreme case is an animal euthanized. The main justification for doing so would be that the animal has extensive, inoperable injuries or has a terminal illness that is causing it to suffer. The decision to euthanize an animal is never taken lightly and is only performed after a comprehensive examination and recommendation by a veterinarian, not by the shelter manager.

The RCHS is committed to work with Animal Wardens and other shelters throughout the area and will assume custody and care for animals which are adoptable. This cooperative effort is designed to prevent unwarranted euthanization of animals. According the American Society for the Prevention of Cruelty to Animals (ASPCA), approximately 3.3 million dogs and 3.2 million cats enter U.S. animal shelters. Sadly, approximately 670,000 dogs and 860,000 cats are eventually euthanized. As a no-kill shelter, the RCHS does not place a time limit upon the length of an animal's stay at the shelter. In fact, there have been numerous animals that have been at our shelter for well over a year before they were adopted into a "Forever Home."

The manager at the RCHS always attempts to match the pet with the adopter. Special consideration is sometimes needed for animals that have been surrendered. Recently, two surrendered sets of "senior" bonded dogs that had been together as puppies were adopted as pairs, avoiding the trauma of separation from a long-life partner.

All RCHS animals that are awaiting adoption into a "Forever Home are fully vetted. This includes spaying / neutering, worming, vaccinations including rabies, heartworm testing, flea and tick control and microchipping. Once these procedures are completed, the animal is deemed "ready for adoption."

RCHS cares for people as well as animals!

One of the unique services of the RCHS is that it provides shelter for the animals impacted by domestic violence. While victims and their children are temporarily housed at Safe Passage or another protected location, the family pets can be brought to RCHS for care at no cost. Later, the animal(s) can be re-united when a stable, safe home is assured.

Similarly, the RCHS provides no-cost shelter and care for pets of hospice patients and others who require long-term care in a nursing facility. These animals are vital sources of support for these patients, and it is comforting to these individuals to know they can be joyfully reunited with their pets when their condition improves.

RCHS relies on YOU, not Ripley County, for its Operating Funds.

There is a sizable cost involved with maintaining operations of the RCHS. Major expenses include personnel salaries, veterinarian services, animal food, vaccines and other medicines, food, cleaning and disinfecting supplies, electricity, gas and other utility bills including waste management, property and liability insurances, vehicle maintenance and transportation costs, and landscaping equipment and other resources required for management of the shelter facility.

Unlike many county funded animal shelters, the RCHS relies upon income from grants, trust funds, adoptions, donations of money and supplies and memorial gifts to maintain its existence. When making funeral arrangements pet lovers may designate the RCHS as a memorial preference. This perpetuates the legacy of the deceased pet lover. Complete information about supporting the RCHS can be found at their website at www.rchumane.com under Ways to Help.

Volunteer positions are also available at the shelter. As every pet owner knows, all animals need and thrive upon socialization and exercise. For more details on volunteering, please call the shelter at 812-689-3773. Visitors are always welcome. The shelter, located at 1202 W. County Road 250 N. (off Highway 421 between Osgood and Versailles) is open 7 days a week.

I hope that my article has answered some of the questions about the RCHS. In ending I would like to conclude with a quotation by the British writer James Herriot which so clearly summarizes my feelings about Nero, my adopted dog and "My Forever faithful, furry, four-legged friend" who left me on December 11th. I am also certain that those who have welcomed a pet into their lives feel the same way.

"If having a soul means being able to feel love and loyalty and gratitude, then animals are better off than a lot of humans.''