Resident questions water co.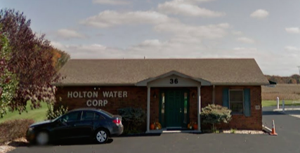 Marilyn Kirk of Holton, brought some questions to the newspaper about how she felt the Holton Water Corporation was conducting business. She said she feels decisions are being taken away from the members when it comes to voting for the board of directors.

Kirk also was concerned about not being able to get records she had requested from previous meetings. "I got partial minutes, but not the full minutes," she told The Versailles Republican. She had copies of the minutes she had received, and copies of the full minutes. Her father, Jim McNeelan serves on the board of directors and she was a part time employee for a while, working one day a week.

When the president of the board, John Meisberger, was asked about these concerns, he said no one had come to the board meeting with concerns. "All of our meetings are open to the public and she (referring to Kirk) usually comes to the meetings, but hasn't voiced the concerns you've just talked out," he noted.

Kirk also noted that she doesn't know where all the money is going to and is concerned about that situation. However, Meisberger said there are multiple expenses that are all documented, plus planning for future repairs that will run in the thousands, if not more.

Kirk noted that she has been fired by the water company, but was only part time (one day a week). "It's not that I'm upset about that, I just don't think the directors should have full control. Members pay membership fees for a reason." She believes the members should have more say.

A copy of proposed bylaws, policy on conflicts of interest and disclosure of certain interest were presented to the media by Kirk, however, those papers were not signed, and had not been voted on by the board of directors.

The February meeting where the new paperwork would have been voted on, had to be canceled due to COVID-19 spacing. According to Michelle Demaree, office administration, she said there were too many people in the amount of space available to have the meeting according to the Ripley County Health Department guidelines.

Another meeting has been set for Monday, March 1, at the Holton Community Building on Versailles Street to allow more space. At this meeting, which will begin at 7 p.m. there will be space for people to come in a few at a time to vote on two board member seats – Cynthia Melton and Marlin Hughes, that will be up for the membership to vote on.

Meisberger explained that the Holton Water Corp. encompasses a very large area and they actually have around 950 members. He noted that there is about 140-150 miles of water pipe they maintain. They purchase their water from Hoosier Hills and try to give the best service they can to their members. "All we're trying to do is keep the water on, at a reasonable rate," he told The Versailles Republican. He said they had a rate increase about three years ago when they hadn't had one for 13 or so years. "We felt the bylaws needed to be updated, since they hadn't been since 1976 when the water became available," he said. The board was updating aged bylaws to reflect present day operation with the advice of their attorney.

He said the board has nothing to hide and if someone has a problem, they should come to their meeting, get on the agenda, and speak their mind. He said usually they can solve a problem right away, but can't do anything with rumors. "They need to come before the board," he said.

If you have a Holton Corporation Water membership you are eligible to vote. Those who rent are not eligible.

The present board members besides Meisberger are: Darla Downey, vice-president; Andy Comer, Jim McNeelan, Marlin Hughes, Cynthia Melton, Mike Stratton. Employees are Sue Keyes who deals with the outside work, and Michelle Demaree, who runs the office, and Al Asche, who also works with outdoor situations, pipes, etc.