Return to Tyson a success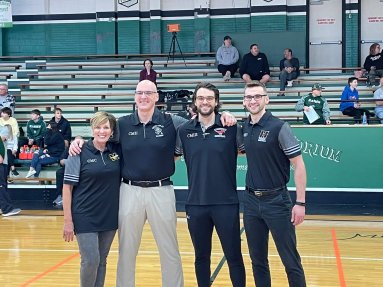 ROB LAFARY PHOTO
On a day where many made plans to celebrate the end of 2021, area basketball fans entered the friendly confines of Tyson Auditorium on Friday morning hoping to feel the nostalgia of years past as high school basketball made its return to the historic building with the inaugural Ol' Coach Classic.

The junior varsity boys basketball tournament drew in fans from all participating schools and basketball enthusiasts alike as part of the day to honor the lasting legacy of the Ol' Coach, former Versailles and South Ripley head man William "Gus" Moorhead. Several family members also made the trip to Moorhead's old stomping grounds to enjoy a tourney field that was headlined by his children and grandchildren.

Game one saw Gus's grandson Trent Moorhead and the Hauser Jets take on Milan whose corporation superintendent is Gus's Daughter, Jane (Moorhead) Rogers while the second opening round game pitted superintendent Rob Moorhead, Gus's son, and the South Ripley junior varsity squad against Edgewood, led by another grandson in Brad Moorhead. Hauser went on to defeat Milan 50-38 while Edgewood survived South Ripley by a 39-37 score.

The championship game pitted grandson against grandson and the two head coaches led a title tilt worthy of being played in Tyson. Edgewood led early on and pushed ahead by three possessions before Hauser made adjustments late in the second half and held on for a thrilling 45-43 victory. The Mustangs had a chance for a game-winner but the buzzer beater was a no-go, allowing Trent Moorhead and the Jets to take the title.

The consolation game also proved to be an exciting one as Milan knocked off South Ripley 33-31 on a shot with only 0.9 seconds remaining. The Raiders would manage a timeout and final play but a halfcourt heave went off the glass as the buzzer sounded.

Several played a majorrole in forming the tournament and many left in high hopes of its return next season while also hopeful to see varsity basketball return to the old gym. The Tyson Activity Center staff received several compliments in regards to the appearance and upkeep of the building.