Ripley County EMS thankful for RSRF grant to purchase devices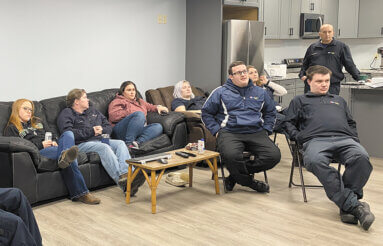 WANDA ENGLISH BURNETT PHOTO
Since getting finances for the Ripley County Emergency Medical Service (EMS) is limited, Director Scott Huffman was particularly pleased with a recent grant that allows them to have a cutting-edge product.

The new ultra sound probes were financed through a Rising Sun Regional Foundation grant and the county now has five available to paramedics as they crisscross the large area that Ripley County EMS serves.

Paramedics, along with some EMT's, could be found last week on Thursday morning at the Milan Station participating in virtual training and then hands-on training. These probes can detect fluid and blood retention in an area of the body that could be vital to life. The images are then able to be transferred directly to a health care provider, such as a hospital.

This gives the paramedics one more tool in the field that can send what's happening to a patient directly to a facility and could save critical moments or even seconds that matter in emergency situations.

Huffman said they are moving forward with equipment, technology and skill as they serve the people of the county. This group has used COVID-19 money in an effective way to gain ambulances and make the Milan Station into the place needed for emergency crews. These people work long shifts and need to be on-site for long periods of time. While the facility at Milan isn't fancy, it's efficient. An Open House will be planned there this spring to offer the public a view.

If you're interested in becoming a part of this small, dedicated group, EMT's both basic and advance are usually needed, along with paramedics. Contact 812-689-6723 or ripleycountyems@comcsast.net. The main headquarters/administrative office is located at 727 West Hopewell Road, Versailles with the Milan Station being at 212 Maple Street. Jason Smith is the Assistant Director.