Ripley County Hall of Fame welcomes 2020 class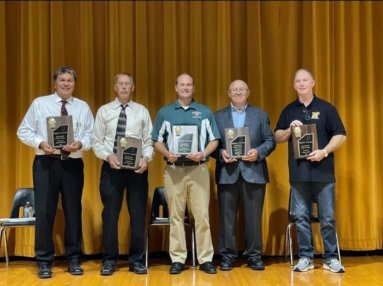 SUBMITTED PHOTO
The Ripley County Basketball Hall of Fame's 2020 inductees were forced to wait a few extra months for a proper induction ceremony but this past Saturday saw the class get its rightful recognition as Milan High School played host to the group's induction banquet.
Five of the seven inductees were in attendance on Saturday night alongside former coaches, players, family and friends. The banquet, which is normally held in April, had been postponed due to the COVID-19 pandemic that had plagued much of the routine happenings involving the hall of fame.
Jac-Cen-Del and Milan each had two inductees inside the Class of 2020. Osgood was represented by 1974 graduate Nick Rohlfiing who finished his career as a top 25 scorer and rebounder in program history while fellow inductee Marcy (Dickman) Baumer was a 1992 graduate and led the Lady Eagles to a 1991 sectional crown while also notching over 1000 career points. Both her father, Louis Dickman, and sister, Connie Dickman, are also inductees in the Ripley County Basketball Hall of Fame.
1979 Milan graduate Craig Cutter finished his career as the program's all-time leading scorer at 1502 points while leading the Indians to a sectional championship appearance in 1979. Ray Baurley, a 1963 New Marion graduate who played on the 1961 sectional championship team, was honored as the induction class's Meritorious Service Award winner for his longtime commitment to the Indian basketball program.
Baurley, a teacher at the school from 1970 to 2007, also served under 10 varsity head coaches as a freshman and junior varsity coach for the black and gold and has also been an official scorer for the team following retirement.
South Ripley inductee Jason Gambrel currently ranks fifth on the all-time scoring list at the school and has held numerous three-point shooting and free throw records for the program since his graduation while three years prior saw Batesville inductee Rick Ehrman conclude his 1989 senior season at 21st on the Bulldog all-time scoring list. Ehrman also ranks in the top 15 at the school for free throw percentage.
The class's final inductee, Jim Horstman, graduated from Sunman in 1972. Horstman finished as the only 1000-plus career point scorer in the school's history, finishing up with 1498 points while also having a career average of 22.4 points per game.
Due to COVID-19 and the delayed induction of the 2020 class, the 2021 year saw the hall of fame committee elect not to induct a new class for this calendar year. The group now turns its focus on a 2022 class that will start being discussed at their November meeting.