Ripley County has 2 more baby boxes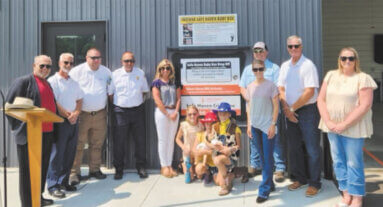 WANDA ENGLISH BURNETT PHOTOS
The faithful few met to dedicate two more Safe Haven Baby Boxes in Ripley County on Saturday, June 17. The 150th box is in place at 727 West Hopewell Road, Versailles, at the EMS building. The 151st box is located at 212 Maple Street, Milan, at another EMS building. Both boxes are fully operational and ready for anonymous surrender 24/7.

At Versailles, Pastor Tim Hiem of the Shelby Christian Church, told the story of Moses in the Bible and how his mother safely surrendered him. Moses went on to be one of the most known leaders in his time. "We don't know the circumstances of the surrender, but God does," he told those gathered.

State Rep. Randy Frye led the event with Mary Beth Boone and Amy Arbuckle of the Madison Mission, also on hand. Both have been driving forces in getting the boxes installed throughout the state.

Boone said there have been 132 safe hand-offs from mothers who just needed someone to help. "This safe, anonymous box allows women to surrender their babies," she noted.
The Ripley County Commissioners were thanked again for their role in getting the boxes. When they were approached, there was no hesitation. "We don't just want one box, we want two," Kendall Hankins said. He put his money into his speech, and others followed suit and now Ripley County has three boxes!

The boxes do cost money to install and time when there is a surrender, but the outcome is always worth it. Kristen Hobbs of Versailles and her family were in attendance at the baby box blessings and are fully credentialed to adopt a baby.

Safe Haven Baby Boxes are set up with a silent alarm that immediately notifies 911 a baby has been placed there. The climate-controlled box ensures the infant will be comfortable for the short time until a first responder gets them. The location of the boxes in Ripley County in the three EMS stations (the first one in Sunman at the EMS Station), assures someone is around 24/7.

Mary Jean Wessel with Right to Life of Southeastern Indiana was given thanks for all her work through the years. The St. Louis Respect Life Committee, Batesville Pregnancy Hotline, Ladies Auxiliary of the Milan American Legion, St. Charles Catholic Church, Southeastern Indiana REMC, and many private donors were all thanked for their generous giving.

The bottom line is babies are abandoned. With the Safe Haven Baby Boxes, mothers have a choice that will save their babies lives and not bring any legal action against them. A 24-hour hotline can be called 1-866-99BABY1 to get more information.