Ripley County has great voter turnout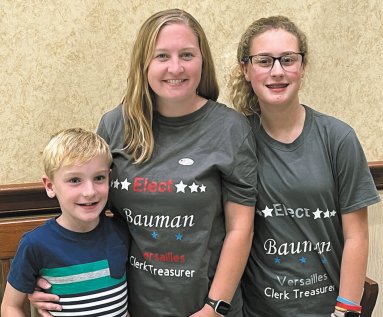 JASON SMITH PHOTO
More registered voters are voting. That was the trend in Ripley County for the 2022 General Election.
When the first ballots were brought into the courthouse by Charlene Stroop and Alex Poole (Washington Township-Precinct 1), it was noted that they had more voting there than in previous elections. They even had to have more ballots delivered to the polls during the day according to Stroop. Poole noted that people were interested in the Senate and Congress races in particular.

Diane Macek, election deputy, noted that the turnout was good for the county with 39% of registered voters showing up to have their vote counted.
Ripley County, known as a Republican county, went more red with Vicki Taylor, Republican, taking the Shelby Township Trustee seat over Charles Meisberger, Democrat. Taylor had 211 votes over Meisberger's 70.

The Versailles Clerk-Treasurer position has been held by the blue party, but that was changed with Sarah Bauman, Republican, challenging incumbent Kiersten Libby, Democrat. Bauman took the lead with 335 votes over 216 cast for Libby.

Throughout the evening Bauman nervously watched the numbers at the courthouse with family members nearby. She didn't take anything for granted, and didn't celebrate until the very end. She said someone asked her to run for the seat and she is excited to start the journey.

Seats on the South Ripley School Board turned as newcomers Kimberly Jolly (1,219) won over Danielle McGee (894); Brittany Bradley (1,226) took the lead over Randel McIntosh (854); Andy Comer unseated Andrew Miller – 1,221 to 872; and Thomas Welch slipped by Robert Garcia with 65 votes.

In Sunman-Dearborn School Board District 1 race, Michael Norman had 391 votes over Joseph Bulach with 343 votes.

Jac-Cen-Del has new board members, but they were unopposed. They are Michael Davis, Tiffany Foster and Danny Horn.

On the Jackson Township Board the top three candidates were Judy Mulford, 255, Denise Schmaltz, 186, and Jane Ann Vankirk, 244, all Republican. Jack Schuerman was the only Democrat and received 121 votes.

Diane Macek will be a new face on the County Council – District 3. She ran unopposed. Many of the offices did not have challenges with Stan Wiedeman and Ronald Decker on County Council, Mark Horstman, County Commissioner, Shawna Bushhorn, Assessor, Jeffrey French, Surveyor, Rob Bradley, Sheriff, Amy Copeland, Auditor, and Ric Hertel, Prosecuting Attorney (all Republican).

State Representative Randy Frye (District 67) retained his seat with no opposition. Lindsay Patterson took the Ripley County vote for State Representative (District 55).
Erin Houchin handily took the most votes for US Representative in District 9 with 6,648 votes over Democrat Matthew Fyfe with 1,549 votes.

Ripley County's choice for Treasurer of State was Daniel Elliott, Auditor of State, Tera Klutz, and Secretary of State, Diego Morales with 6,326 votes.
Senator Todd Young (Republican) retained his seat with Ripley County's blessing.

Editor's Note: The above numbers were taken from the Unofficial Results posted for the General Election, 2022, Ripley County. There are 21,605 registered voters in the county and 8,464 votes were cast.