Ripley County Livestock Auction to go live and virtual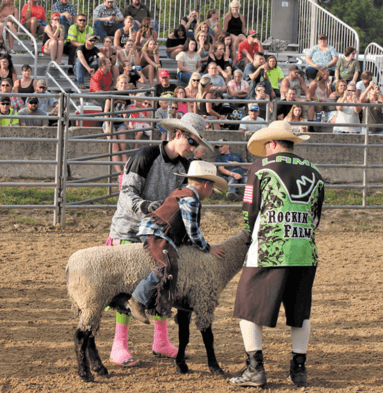 The Ripley County 4-H Fairgrounds will be eerily quiet this month with the county fair canceled but 4-H members will get somewhat a taste of normal when a revamped livestock auction takes place this Friday afternoon.

The live event takes place at 3 p.m. on Friday at the Damn Theatre in Osgood with registration and seating beginning at 2 p.m., but with many restrictions and COVID-19 guidelines still in place, the Ripley County Extension Office has announced that buyers do not have to be at the theatre in order to participate in the auction.

Three other means of participation are on the table for Friday with one being viewing the auction through the online meeting website Zoom. Buyers can enter through the auction's Zoom link and enter bids on livestock through an online chat. All buyers wishing to participate online must register with the Extension Office by 5 p.m. p.m. on Thursday, July 23.

Buyers can also place an early bid or make an add-on contribution by stopping in at the Extension Office or by phone or email. The early bid deadline also is scheduled for 5 p.m. on July 23.

New buyers are being asked to set up a buyer account in advance while returning buyers are asked to update their accounts with the Ripley County Extension Office. Invoices will be sent out by Tuesday, July 28, preferably by email this year, but a hard copy can be mailed out. Animals will not be available for the buyers to keep this year. Any kept buy must be worked out in advance with the respective 4-H member.

The Ripley County Extension Office is located at 525 West Beech Street in Osgood. You can reach the office at 812-689-6511 and all email inquiries can be directed to emswelle@purdue.edu. The Zoom link for the auction is http://purdueextension.zoom.us/j/94930981285 and will be made available at 2 p.m. on the day of the auction.