Rivals win Super Regional!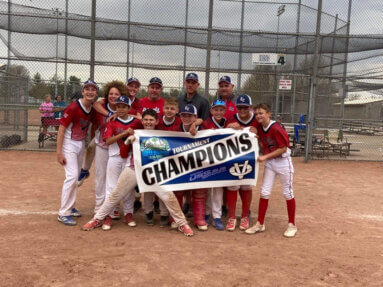 SUBMITTED PHOTO
Youth baseball is in full swing all around the coverage area and one local group is already making headlines as the 12U Ripley County Rivals laid claim to the USSSA Class A Midwest Super Regional in Greensburg.

The April 23-24 event saw the Rivals go untouched in five games, two of which were played on Saturday. A 5-2 win over Diesel-Red out of Columbus and a 6-2 victory over Strive-Black out of Terre Haute allowed Ripley County the No. 1 seed where an opening round matchup on Sunday against local rival Batesville produced a 6-3 final score and sent the team to the semifinals.

A narrow 9-8 win in the semifinal against the Ellettsville Mustangs sent Ripley County to the championship round where the 12U group collected 11 hits and 11 stolen bases en route to a 9-1 title victory in four innings. The offense was paced by four frames of small ball and baserunning while the defense got an early lift out of Parker Pindell and never looked back.

Another notable highlight of the weekend was back on Saturday when Weston Cumberworth, Gabe Stone and Tommy Poole combined to throw a no-hitter in the win against Terre Haute.

The Rivals entered this past week ranked No.1 among Class A 12U teams in both the state and nation. Team members this spring season for the team include: Sam Johnson, Nolan Harmeyer, Will Meyer, Parker Pindell, Abe Speer, Gabe Stone, Tommy Poole, Seth Thomas, Weston Cumberworth, Luke Kaiser and Brian Jones. Coaches include Dave Miller and Andrew Kaiser alongside manager Brady Johnson.

Versailles American Legion Post #173 serves as a primary sponsor for the team.