Roell makes Warrior Classic history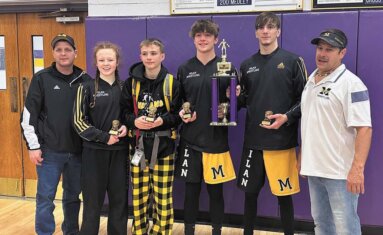 PHOTO COURTESY OF MILAN ATHLETICS
With girls wrestling on the rise in the state of Indiana, that doesn't mean that a girl can't go out in a male sport and have some big time success. Just ask Milan's Kayla Roell.

While MIlan totaled a two-day record of 9-0 and earned a team championship at the Warrior Classic in Scottsburg, it was Roell who provided the biggest result of the entire tournament, becoming the first female to earn a win inside the classic after taking the individual crown in the 113-pound weight class. Roell's accomplishment was highly publicized at the event and made waves around the area at the conclusion.

Roell has spent several years on the mat and has participated in a variety of events in that time. Her new accolade provides major momentum not only for her as a competitor with the Milan boys wrestling team but also makes her a viable contender as part of the IHSAA's girls wrestling circuit.

Away from the 113-pound class, Milan had three other wrestlers earn championships. Matthew Baylor was a winner in the 106-pound class, Kaleb Wilburn won at 138 pounds and Cameron Gilb was a winner in the 160-pound class

Milan wrestles again on Saturday at Corydon Central.