Ryan Middleton is top candidate for JCD Superintendent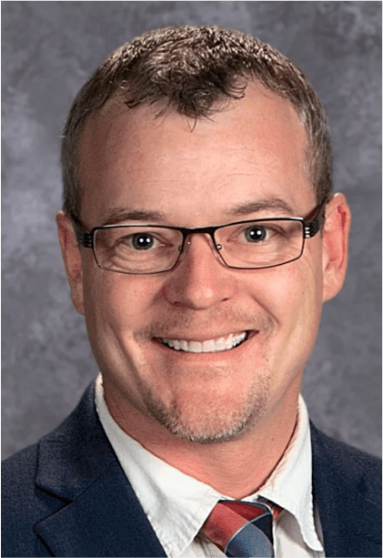 Submitted photo
The Jac-Cen-Del Community School Corporation has announced that Ryan Middleton is the leading candidate for the superintendent position at JCD. The board has entered into contract negotiations with Middleton, current principal at JCD, with a public hearing, which was held on January 14. A formal vote on Middleton's contract is expected to be made on January 28. If approved, Middleton's contract with JCD will begin on February 1.
A move across two state lines has brought Middleton to JCD. Middleton said, "I am very honored to be given this opportunity to lead the JCDCS district." He and his wife, Elizabeth, and their two children recently moved to Greensburg. His wife is employed at the Department of Natural Resources. Their two children, a third grader and preschool student, are currently attending JCD Elementary.
"JCDCS and its community have been very welcoming and kind to myself and my family. It is humbling, yet exciting," Middleton stated, as he thinks about this next chapter of his career. His recent appointment will begin his fifth year as a superintendent. Middleton says he understands the complexities that come from the central office and looks forward to building upon his experience towards becoming a better leader for the district and community.
"Working with the community and serving our students and families allows me to see the greater picture of what we are trying to accomplish at the district; inspiring lifelong learning and becoming productive citizens," Middleton said.
Middleton, a native of northeastern Indiana, has 12 years of education experience. He began his career as an English teacher at Columbus North High School. He then moved to western Missouri where he continued to teach English in a rural setting. At the district where he was hired, he was given the opportunity to serve as principal. A year later he was asked to take over the role of superintendent. Middleton says, "It was after two years that I was approached about a superintendent position at a neighboring district, and after much though and discussion with my wife, I accepted."
He continued his tenure there for three years before he and his wife made a decision to leave and come back to their home state of Indiana. "It was not an easy decision, but with a nine-year-old and a five-year-old it was time for us to be able to interact with our families more than a once a year basis."
Middleton earned his Bachelor of Science degree from Indiana University-Purdue University of Indianapolis and his Master of Secondary Education degree from Indiana University. He has an Education Specialist degree from the University of Central Missouri and is completing his Doctorate from William Woods University.