Safe Haven Baby Box in operation in Sunman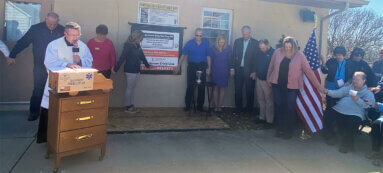 Wanda English Burnett
It was as if the Heavens approved of the action in Sunman on Sunday as the sun shone down on the large crowd that gathered at Sunman Rescue building to witness the blessing and opening of the first Safe Haven Baby Box in Ripley County.
Several dignitaries and political representatives were on hand to give their blessing along with Father Shawn Whittington and others who wanted to see the Box have a proper opening. At a little after 2 p.m. on Sunday, March 26, the Box stands ready to accept a baby.

Representative Randy Frye emceed the event with several speakers including Mary Beth Boone and Amy Arbuckle of Madison Mission, Inc., who brought the concept to Ripley County.

While Rep. Frye did his part in helping with passing the legislation to have these boxes installed, along with State Rep. Erin Houchin (who was also in attendance), he said, "Saving the lives of little babies is not political." He said the bill (#1032) that was passed unanimously is a model for the country. A group from Indiana is working with Ohio legislators to help them get on board as well. In the meantime, there is plenty of funds for billboards to be place along interstates and Indiana welcomes babies from Ohio and any other surrounding state.

Rep. Frye took this time as an opportunity to let people know that anyone can come up with an idea and get it passed into law. "It takes dedicated and passionate people such as Mary Beth and Amy," he said.
Indiana is a state that has one of the strictest anti-abortion laws, according to Frye. He made no apology for that saying, "but, now we need to give mother's a choice." To have a baby and give it up due to reasons only known to the mother makes her a hero, Frye noted.

When the idea was presented at the Sunman Life Squad, it only took a few minutes for the people
there to get on board. It was a matter of making a few phone calls, and before Boone left that day, she had a check from St. Nicholas for $11,000, and promises the Box would be in place.

"This community is amazing," Boone told the Osgood Journal. She said she is so impressed with Sunman where Stan Wiedemann's company installed the Box for free, and many others gave.

Ripley County Commissioners said no we won't put in one baby box, but, rather, three! They were completely on board from the get-go as well and boxes are installed at Milan and Versailles EMS with dedications being planned soon, according to Jason Smith, assistant EMS director, who was also in attendance Sunday afternoon. Many people also gave to that with the Commissioners pledging to have the Boxes installed for free.

Sunman Town Marshal and EMT with Sunman Rescue, Brian Maynard and wife, Megan, were instrumental in getting the Box in place. Brian spoke, thanking the members of the rescue squad for their quick acceptance and excitement. He thanked the many veterans in attendance and said the Milan American Legion was also a big donor for the project. "Veterans are the reason we have choices today," he noted.

In 2020, Boone had a dream of having a Box in Madison. She, along with Arbuckle began the Madison Mission and were definitely on a critical mission to save babies. Boone represented Monica Kelsey, who was abandoned at birth and the person behind the movement to save babies.

The Box was tested at Sunman, and with the one minute and 47 second response to the tone dropping, the Box was fully operational and ready to receive the first baby that needs a home. Boone explained that fully vetted people are standing by to receive these precious bundles of joy.