Samples and Dickman earn Ripley Publishing awards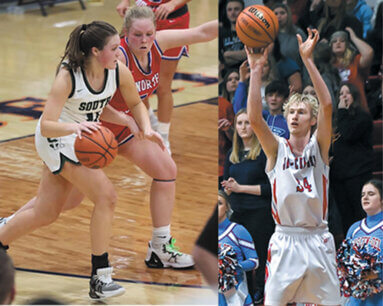 PHOTOS COURTESY OF LORI SAMPLES AND RICH FOWLER
A busy spring and summer has led us into the 2023-2024 fall sports season but not before honoring one final winter duo as South Ripley's Katelynn Samples and Jac-Cen-Del's Matt Dickman have been named Ripley Publishing Inc. basketball award winners.
The two were selected among senior basketball players between Jac-Cen-Del, Milan and South Ripley following the 2022-2023 season.
Samples was chosen as the 2023 Ripley Publishing Excellence Award winner after local coaches voted on her based on performance, leadership and work ethic throughout her career at South Ripley. The newly-graduated Lady Raider helped lead the program to three-straight Class 2A Sectional 45 titles while amassing a four-year varsity win-loss record of 61-40 which included county and conference supremacy.
"It is such an honor to receive this award as recognition of my hard work and dedication to the South Ripley basketball program," Samples said of her selection. "It is also exciting being able to share this award with my brother, Cody Samples, who was the boys award winner his senior year in 2020."
A family lineage, including brother Cody, South Ripley basketball's all-time leading scorer, certainly trickled down to little sister Katelynn who quickly became a scoring and rebounding threat for head coach Matt McNew. An All-County, All-ORVC and All-Sectional pick during her career, Samples built a reputation as a tenacious competitor on the glass but soon to follow was a knack for scoring, using the two strengths to her advantage and becoming one of the area's leaders in rebounds per game and field goal percentage.
By her senior year she was a constant double-double threat, finishing out the campaign with averages of 9.4 points and 6.8 rebounds per game. She would play in 88 career games over four years, totaling 474 points and 365 rebounds.
"My best memories include winning three consecutive sectionals and being named MVP of the sectional my senior season," Samples said of her career. "From growing and always being around South Ripley sports, it was a dream come true for me to get to experience being a student-athlete there and creating lifelong friendships, memories and life lessons."
Samples is attending Ivy Tech in Columbus this fall and plans to pursue a bachelor's degree in nursing.
Dickman was a fixture inside Jac-Cen-Del boys basketball and his dedication and success inside the program landed him the 2023 Ripley Publishing Inc. Tiny Hunt Award. The award, voted on by Ripley Publishing, is named in honor of the legendary former sports editor at the company.
"It was an honor for me to play at Jac-Cen-Del," Dickman said. "And it was an honor for many reasons including my teammates, coaches and the fans that have continued to support me."
Dickman was one of the driving forces in Jac-Cen-Del's return to state power over the last two years, helping lead the Eagles to two-straight appearances in the Class A Semi-State which included a junior season that saw Jac-Cen-Del march all the way to the Final Four. Prior to, the Osgood crew would use Dickman's abilities along with his teammates to capture both a Ripley County Tournament championship and an Ohio River Valley Conference crown in 2022.
Head coach Clint Bohman got a jack-of-all-trades when it came to the 6-foot-6 forward. Dickman's athletic frame not only allowed him to fly all over the floor inside and out but also played towards his strengths as a rebounder who had quite the ability to get to the rim and score at a high percentage. Jac-Cen-Del went 68-36 in the four years Dickman suited up with his junior and senior years -his two biggest seasons of contributions- seeing the Eagles soar to a 40-16 record.
County, conference and postseason honors were all bestowed upon Dickman during that final two-year span. His 6.8 points and 4.6 rebounds per game his junior season as part of a highly-talented roster blossomed into 12.2 points, six rebounds, two steals and two blocks per game during a senior year that ended with Jac-Cen-Del in the Class A Elite 8. He was among ORVC leaders in a plethora of categories as well, shooting 49 percent from the field for his career and putting together a 50 percent mark during his final season.
"I had a lot of great memories at Jac-Cen-Del," noted Dickman. "My favorite memory was certainly playing basketball with my teammates and going to the Semi-State in back-to-back years."
Now graduated from Jac-Cen-Del, Dickman continues to apply his strong work ethic to the real world and has aspirations of starting up his own trucking company.