Samples named Tiny Hunt winner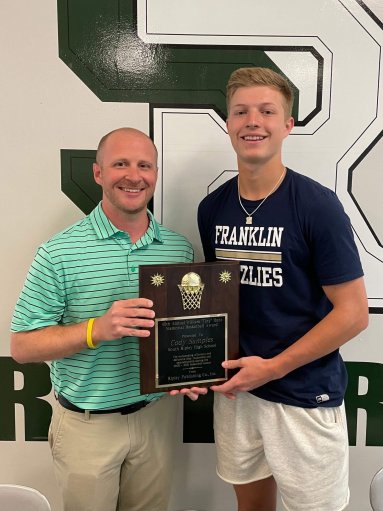 Life on the basketball court has never been a real rough go for Cody Samples but it is safe to say at times it hasn't been the easiest either. Whether it has been adjusting to a new coach, watching friends drift away from the hardwood or having to take his game to a whole new level, perhaps challenging is the most fitting word in this case.
But if challenging is the word then Samples has made good on overcoming the challenges and obstacles he has faced. In doing so, the South Ripley senior has forever etched his name and accolades into the boys basketball record books at the school and it was only fitting that the Raider sharpshooter be named the recipient of the 40th Annual Ripley Publishing Inc. William "Tiny" Hunt Memorial Award.
The award is presented to an outstanding senior boybasketball player at either South Ripley, Jac-Cen-Del or Milan, who has displayed outstanding talent on the floor while serving as a young role model and good sport off the floor. The presentation to Samples was made on Thursday, May 6 at South Ripley High School with family, coaches and friends present.
"It is a big honor for me," Samples said of winning the award. "There are recent guys who have won this award that I have played with or against on the court and guys who won this award that I grew up watching play. It is very cool to see my name now among them all."
Samples spent four years as a varsity player and the Raiders have relied on him to do a little bit of everything but it is no secret that his ability as a scorer is what has placed him among the all-time greats at the school. Heading into his senior campaign, Samples had scored over 900 career points and knew that a full final season -not ruined by COVID-19- would allow him to be on pace to break the school's all-time scoring record.
And he would break that record. With South Ripley finishing up at 21-2 on the season -the second most wins in a season in program history- Samples averaged over 20 points per game and totaled an astounding 493 points for the year. That total would help him not only eclipse the previous all-time boys scoring mark of 1278 points by Steve Allen in 1978, but his career total of 1429 points also makes him the school's all-time leading scorer between both the girls and boys basketball programs. The previous all-time mark was set by Ashlee (Lauber) Miller in 2001 with 1325 points.
Samples also holds the record for three-pointers attempted in a season with 171, three-point field goals made in a season with 66 and is the career leader in both three-pointers made (210) and free throws made (265).
"I couldn't ask for anything more out of the career I had as a Raider," Samples said of the last four years. "I love the community support, I love the coaches and I love my teammates. Coach (Travis) Wrightsman started me here and then Coach (Tyler) Theising) came in to finish. He really helped me so much. To accomplish what I did here still hasn't fully set in but I know that none of it would be possible without the team and this town."
The only thing to allude Samples in his basketball career in Versailles was a Class 2A Sectional 45 championship. The Raiders won 52 games in the last four seasons, won the Ripley County Tournament and Ohio River Valley Conference title, but never were able to nab postseason glory. Despite that, Samples says the four sectional games he was part of will go down as some of his best memories as a player.
"The sectional hands down," Samples said of favorite memories. "All four years, especially those last three years. The gym was completely packed, they were close games and even despite the losses it was just an amazing atmosphere to be a part of."
Receiving the Tiny Hunt Award wasn't the only reason for celebration last Thursday. Also on the slate was Samples inking his letter of commitment to take his basketball talents to Franklin College where he will compete at the NCAA Division III level. The Grizzlies compete inside the Heartland Collegiate Athletic Conference and have been one of the top programs in the HCAC for many years.
Franklin finished a shortened 2020-2021 winter season with a 9-6 record but the team captured the HCAC Tournament championship. The Grizzlies, under second-year head coach Brian Lebowitz, boast a mix of veterans and youngsters that will again vie for a conference championship next season and very well could punch a ticket to the NCAA Division III Tournament. Samples says those aspirations helped drive him to the school, but also was quick to note that there were other factors in the decision.
"I chose Franklin because it's close to my family," Samples noted, a player whose family alone is capable of filling an entire section of bleachers. "No matter what I participate in, my family is very supportive so it is easy for them to make all the games. Plus I really feel like the connections I made with the coaching staff just made the school feel like home."
As for his play on the court, there's no questioning Samples' drive and work ethic. Pair that with his shooting prowess and the opportunity lies for the future Grizzly to make an impact on the floor right off the bat and for the next four years at the collegiate level.
"I'm a shooter," Samples simply stated. "My work ethic as well … I think that allows me to fit in real nicely with their roster. I feel that with my work ethic I could have fit in anywhere I chose to play and I think both of those things really allows me to adapt to any style of play."
Samples is the son of Brad and Lori Samples and the Versailles native is proudly supported by many other family members who have been mainstays within the South Ripley basketball community as fans. In addition to playing basketball, he will be majoring in business with a minor in sports marketing.