Samples stakes claim as all-time SR boys scoring leader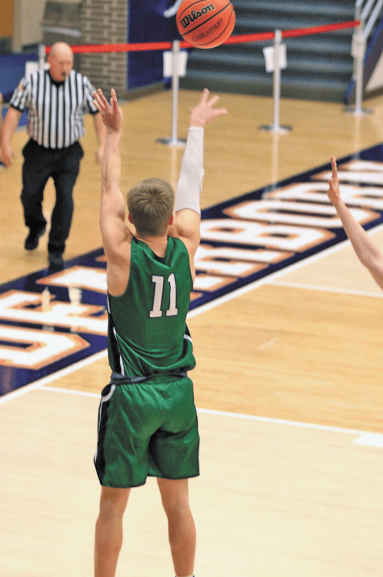 PHOTO BY LORI SAMPLES
Even before he could realize it, Cody Samples has spent his entire life as part of the South Ripley basketball culture. From growing up with family, part of that culture to drilling shots during Dairy Queen halftime shooting contests to donning the green and white himself, there's not much Samples doesn't know about being a Raider. After Friday night, he is now very much a part of that rich tradition.

Just barely inside the first quarter of the Raiders 72-50 win at South Dearborn on Friday evening, Samples made history, drilling a quick bucket and a record-setting three-pointer to become South Ripley's all-time leading scorer in boys basketball history. The record-breaking 1288 career points breaks a 43-year old record set by Steve Allen, a 1978 graduate, who finished his four-year varsity stint with 1287 points.

"I have seen and known a ton of athletes that have gone through this school and to even think I've made it this far doesn't seem real," Samples said of the record. "Many have said that it may not mean as much right now, but it will be very special in the future. I know they are right…this won't sink in for awhile."

Samples finished with 19 points on Friday night, and has so far totaled 366 points through 17 games this season. Even more impressive is the fact the total has been done on a 57 percent shooting clip and a 44-of-91 mark from the three-point line for 48 percent. He currently leads the Ohio River Valley Conference at 21.5 points per game and is among leaders in a variety of other categories.

The South Ripley senior and four-year varsity player entered the season with 936 career points and was seventh on the all-time scoring list heading into the campaign. He has spent the entire year leapfrogging various top scorers in school history, which includes three 100-plus point scorers. Aside from Allen, Samples passed the late Joel Pflum, a 2004 graduate with 1041 points and Kris Cranfill, a 1996 graduate who finished with 1259 points.

Also featured on that scoring list is Cody's dad, Brad Samples, a 1996 graduate, who is currently 16th all-time with 750 points. Cody's mother, Lori (Mills) Samples is also a South Ripley graduate.

"I was born into the program and gym so this means everything to me," Samples said. "I've been part of this program since before I could talk. I am very thankful to have all of my family and friends reach out to me and congratulate me. To start this season I wanted to do something special with my team, but the personal achievements have just come along the way."
South Ripley (16-1) is slated to play three games this week, starting tonight at home against Switzerland County. While Samples is now the school's all-time scoring leader on the boys side, he now set his sights on the all-time mark for both the boys and girls basketball programs.

Samples is 24 points away from claiming that mark. The current record holder is Ashlee (Lauber) Miller, a 2001 South Ripley graduate, who scored 1325 in her four-year varsity career that culminated with the Lady Raiders advancing to the Class 2A Final Four in 2001.