Scarber brothers compete in Big Bass World Championship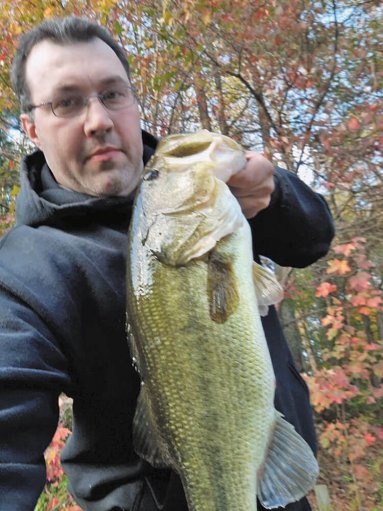 SUBMITTED PHOTO
Ripley County's own Chris and Steve Scarber recently returned from Salina, Oklahoma, where they competed in Bassin' Magazine's annual Big Bass World Championship fishing tournament. The brothers, who graduated from Milan and currently live in Versailles, qualified for the tournament over the summer.

Anglers qualify for the tournament by being state winners. Steve punched his ticket to the big show by catching the largest bass in Indiana. It is his second year in a row to compete, as he won the state of Ohio last year. Chris qualified by hooking the largest catch in Michigan, which is his second time to win there. Prior to his state championships in Michigan, Chris won the state of Indiana on three previous occasions, including in 2000, 2016, and 2017.

The Big Bass World Championship is held each year in the fall, peak fishing time thanks to cooler temperatures, which usually means fish are more active. The 2019 tournament was held on Hudson Lake near Salina, Oklahoma, the second year in a row that the man-made reservoir has hosted the tournament.

Anglers arrived to the lake on either Thursday, October 24 or Friday, October 25, when they gathered for a rules meeting and random draw to decide fishing pairs and marshals for each boat. Then, the big day was on Saturday, October 26, with fishing taking place through the day and final weighing occurring in the afternoon.

After all was said and done, Chris earned a third place finish overall, falling short of the top prize by a mere two-tenths of an ounce, which separated the first place angler from second and third places. Boat motor troubles plagued Steve's day, keeping him from a chance at breaking onto the leaderboard.

Located in the northeastern part of the state, Hudson Lake was dammed in 1964 and features hydroelectric turbines in addition to about 200 miles of shoreline. A state park is located along its banks and it is a popular fishing destination for bass, catfish, perch, and crappie.

Unfortunately, regional flooding in Oklahoma meant the lake was up about two and a half feet this year, making conditions more challenging for the 49 anglers vying for the top prize of cash, a boat, and trailer.

"Bass are sight feeders," Chris says, meaning murky flood waters keep them from seeing an angler's lure. In that case, the best scenario is to drop the lure right on top of a fish so they can see it and try to eat it.

With challenging conditions, the brothers had to put their years of fishing experience to work. "Anywhere you go in the the country, bass are bass," Chris says of the fish's behavior. They are interested in two things: finding food and cover. Anglers mimic food in the form of lures, and when it comes to cover, Steve says, "I usually fish structure." Such places may be natural or man made, like underbrush, rock piles, or bridge pilings, to name just a few examples of what an angler may find on any given body of water.

Anglers have to rely on their instincts when participating in the Big Bass World Championship, as they don't have any opportunity to practice on the lake before the tournament. After the qualifying period, which runs from January through August, the host site is kept secret until about two weeks before the tournament in order to make things as fair as possible for all involved.

Being repeat competitors, both brothers said they have formed friendships with other bass fishing enthusiasts around the country. They also enjoy being a part of a greater community that seeks to preserve water quality and fishing habitat for future generations to enjoy. At the Big Bass tournament, for example, the fish are released after they are weighed, thus allowing the biggest bass to contribute to next year's spawn. Some tournaments are even starting to use smartphones to measure and photograph fish so they can be released right after they are caught, with results being sent in wirelessly.

The brothers have been casting into the water for just about their entire lives. Chris shares that he remembers catching fish with their dad as young as five years old. Although they enjoy traveling to new destinations, they also enjoy visiting local water, including public sites like Versailles State Park, Brush Creek Reservoir in Butlerville, and Bischoff Reservoir in Batesville. "Anyone who wants to fish around here, can," Chris says of the local stock.

For beginners, the brothers recommend a traditional spinning rod and an artificial lure for bass fishing. More seasoned anglers tend to move on to baitcaster rods, which can usually cast further and handle more weight.

As for the lure, it pays to know local conditions and habitat. Steve shares that water clarity and temperature may change what type of lure that is used. Chris adds that it is helpful to know what bass are eating at a given time of the year, too, in order to find an effective lure. If the fish in a certain area are eating shad, a lure that mimics shad may be better than one that looks like a crawfish.

Spring and fall are considered prime time for fishing. In the spring and into early summer, bass are gorging on eggs and then minnows. They may slow down a bit in the hottest months of the year, before picking up their activity again in the fall as they seek to add weight for the winter months.

Winter might make for more difficult fishing conditions, but next year's qualifying for the 2020 Big Bass World Championship begins on January 1. It's probably a safe bet to say that brothers Chris and Steve Scarber are already dreaming about next season's big catch.