SCC holds first graduation of the year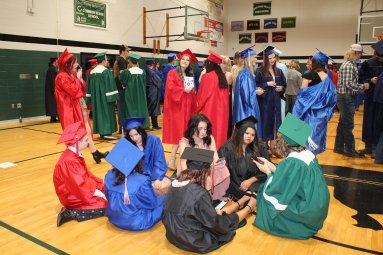 WANDA ENGLISH BURNETT PHOTO
The sea of colors represented a number of students from area schools that graduated from the Southeastern Career Center last Thursday evening at South Ripley High School Gymnasium.

The students had taken classes from Advanced Culinary Arts to Welding Technology and everything in between and are either ready for the work force or further education. Several students graduated with Dual Credit from either Ivy Tech or Vincennes University.

Director of SCC Tracy Bear welcomed the crowd and graduates with Lanie Nicholson, a student of Dental II, along with Julia Hon, Health Science student, giving speeches. Guest speakers were Dustin and Caleb Payne, products of the career center where their father, Gary Payne taught for over 30 years. They now own and operate Iron Timbers in Osgood. "Get out of your comfort zone," Caleb challenged the graduates.

The Colors were presented by the Flying Tigers Sea Cadets with Tina Baker,Criminal Justice student, singing the National Anthem.

Scholarships and awards were presented with Director Bear saying, "I am honored to congratulate each one of you on a job well done. It is wonderful to see your hard work, dedication and commitment has paid off." In a written statement, she continued, "At the Career Center you have had the opportunity to prepare yourself for post-secondary placement. The skills, competencies and employability skills that you have gained are valuable. Your teachers, principals, counselors and administration are so proud of you."

Many of the schools principals and administration were in attendance at the ceremony. The Board of Directors for the school is made up of various superintendents of the participating schools. They are: Ryan Middleton, Jac-Cen-Del, board president; Karl Galey, Lawrenceburg, vice president; Jane Rogers, Milan, secretary; Paul Ketchum, Batesville; Dr. Teresa Brown, Jennings County; Branden Roeder, Rising Sun; Eric Lows, South Dearborn; Rob Moorhead, South Ripley; Jeff Bates, Southwestern; Andrew Jackson, Sunman Dearborn; and Rod Hite, Switzerland County.