Second jailer charged with trafficking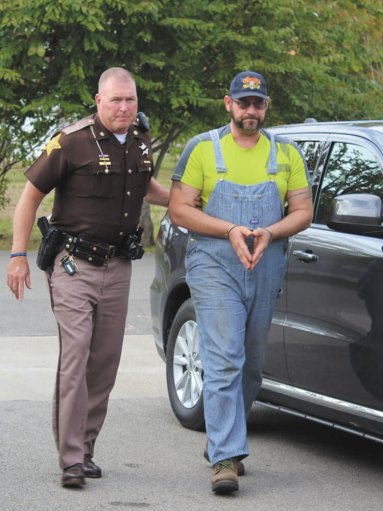 WANDA ENGLISH BURNETT PHOTO
Same girl. Same inmate. Different jailer.

Another jailer at the Ripley County Jail agreed to take contraband into inmate Eric Schott at the request of Courtney Miller. The Probable Cause Affidavit was signed by Detective R. Grant Martin of the Indiana State Police on October 11 with information that William Dreyer came forward with, "I did bring the phones in, that's it, that's all I did," before he was asked a question about the situation.

Bringing the phone or anything into the jail to give to an inmate is a crime, one that another jailer, Darin Laird, just pled guilty to and is now serving a two-year sentence in prison for doing so. It was for the same girl to the same inmate.

When cell phones were discovered inside the cell of Schott, he told Sheriff Jeff Cumberworth that jail employee William "Tiny" Dreyer had delivered cell phones to him.

Dreyer lost his job as the investigation was underway.

According to information in the affidavit, Dreyer met with Miller outside the Ripley County Jail to receive the cell phones and charger in a Walmart bag on October 26, 2018. He then delivered the bag to Schott on the same day.

Dreyer was in uniform and on duty as a Ripley County Jail Officer when he delivered the cell phones to Schott. Dreyer was arrested on a warrant on Tuesday, October 15 by Indiana State Police who held him for the sheriff's department. He was brought into the jail to be booked about 2:45 p.m. by Chief Deputy Sheriff Kurt Enneking. He knew the arrest was imperative after being interviewed by State Police Detectives.

Both jail officers Dreyer and Laird got caught up in the act of trafficking with an inmate and official misconduct. Dreyer had an initial hearing Wednesday morning at 9 a.m. where he was officially charged with Trafficking With an Inmate and Official Misconduct.

The sheriff remains tough on the subject saying he is not going to put up with this kind of criminal behavior and has reiterated the warning to all of the jail officers working for him. "It just won't be tolerated," he noted.

Prosecutor Ric Hertel had stern words for Laird when he was sentenced, and feels the same with Dreyer. "It's a serious crime. It places the other jail staff, inmates, law enforcement officers, and the community in jeopardy." He said the jail officers took advantage of the public's trust.