Sectional football starts Friday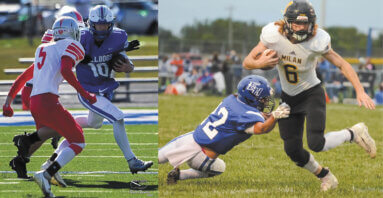 PHOTOS COURTESY OF TERI BOCKSTAHLER BARKER AND RICH FOWLER
Just like that the regular season is over with and one of the greatest draws in high school sports kicks off this Friday night with the opening round of the IHSAA State Football Tournament.

Sectional action commences and will be played through the next three weeks. Winners from sectionals in all six classes of the tournament move on to a one-game regional on either November 11 or 12. The semi-state is slated for November 18 and the state championship games at Lucas Oil Stadium will be held November 25 and 26.

With regards to our two coverage area teams, both will compete in eight-team sectional fields for the next three weeks.

Class A Sectional 46 sees Milan (4-5) in the bottom half of the bracket and hosting South Decatur (5-4) on Friday night with the winner of that game moving on next week to the semifinals where they will face either No. 4 North Decatur (9-0) or No. 8 Tri (8-1). The top half of the bracket has just one opening round game as Knightstown (1-7) plays Edinburgh (4-4) with that winner moving on to play Cambridge City Lincoln (0-9) in the semifinals. Tri enters the tournament as defending sectional and regional champion.

In Class 3A, Sectional 31 starts off with a bang as No. 7 Lawrenceburg (8-1) meets No. 13 South Dearborn (7-2) and the winner moves to the semifinal round to face either Rushville (2-7) or Greensburg (3-6). On the bottom half of the field, Batesville (4-5) meets Centerville (7-2) in the opening round with the winner facing the Indiana Creek (6-3)/Franklin County (3-6) winner next week. Lawrenceburg is the three-time defending sectional champion and has won five of the last six sectional crowns in Class 3A.

Just two other area teams compete outside of those two sectional brackets. Class 4A No. 3 East Central (7-2) is an overwhelming favorite in Sectional 23 and faces Edgewood (2-7) in a first round home matchup. Switzerland County (4-5), who plays inside Class 2A Sectional 39, will have its work cut out in the sectional opener as they visit fifth-ranked Indianapolis Scecina (8-1).

Coverage area game times are set for 7:00 this Friday night. Times are subject to change throughout the tournament pending location and travel time for participating teams.