SEISA wraps up summer slate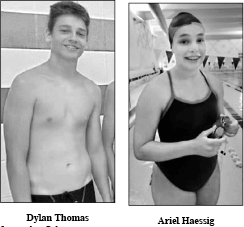 SUBMITTED PHOTO
The Southeastern Indiana Swimming Association concluded the summer season schedule and the month of June with the SEISA Championship held at Madison Junior High School.
Madison H2O, the defending conference champions, repeated the feat and won the 2021 version of the meet with a score of 2423 points. Batesville finished runner-up with 1792 points while Decatur County was third with 911 points and Milan was fourth with 878 points. Hidden Valley's 477 points rounded out the top five while Switzerland County and Jennings County wrapped up the meet with 420 points and 117 points respectively.

The biggest highlight among Ripley County participants was the record-breaking performances by two Milan swimmers in the meet.

Milan's Dylan Thomas broke two conference records in the 14U Division in the 50-yard breaststroke and the 50-yard backstroke. He also took home wins in the 50 freestyle and the 100 individual medley, Ariel Haessig, competing in the 18U Division, broke the record in the 50 backstroke and also won the 50 breaststroke and the 100 individual medley. She had third place finishes in the 50 butterfly and 50 freestyle.

Caiden Felver picked up Milan's other win, taking victory in the 8U boys division in the 25 breaststroke. He was runner-up in the 25 backstroke and 50 freestyle while also finishing third in the 25 freestyle. Other runner-up finishes included Emily Volz in the 8U girls 25 butterfly, Alaina Stock in the 12U girls 100 freestyle, Molly Knecht in the 12U girls 50 butterfly and Elizabeth McKittrick in the 14U girls 50 freestyle, 50 backstroke and 100 freestyle.

Other individual top three finishes for Milan were: Adam Volz, third, 18U boys, 50 backstroke; Emily Voz, third, 8U girls, 25 freestyle; Taylor Stock, third, 10U girls, 50 freestyle and 50 backstroke; Cooper Mutz, third, 6U boys, 25 freestyle; Alaina Stock, third, 12U girls, 50 freestyle; Elizabeth McKittrick, third, 14U girls, 50 butterfly; JJ Mutz, third, 12U boys, 50 breaststroke; Parley Hartwell, third, 18U boys, 50 freestyle and 50 breaststroke; Molly Knecht, third, 12U girls, 50 backstroke; Allie Buchanan, third, 8U girls, 25 breaststroke.

The team of Molly DeWire, Taylor Stock, Claire Burton and Jordyn Huebner finished runner-up in the 10U girls medley relay as did Emily McKittrick, Molly Knecht, Alaina Stock and Ashlyn DeWire in the 12U girls medley relay. That same team finished third in the 12U girls 200 freestyle relay.

Elizabeth McKittrick, Ella Seymour, Margot Keller and Kayleigh McIntosh were third in the 14U girls 200 freestyle relay and Dylan Thomas, JJ Mutz, Landon Saylor and Brady Begley were third in the 14U boys 200 freestyle relay.

Batesville results and all championship times from the meet were not reported by time of print.

A swim meet sanctioned by USA Swimming took place this past weekend in Seymour. The high school swim season returns later this winter.