Shelby Christian Church minister says'Welcome Home'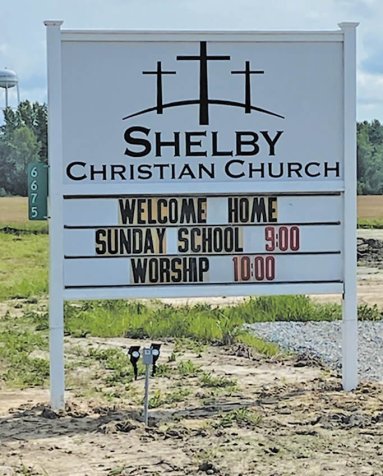 A grateful group gathered for the first official service as the Shelby Christian Church in their new location at 6675 US 421, Versailles on Sunday, July 22.
This was a long-awaited date for a congregation with a vision to grow and serve Christ.
The project was born when people prayed and knew they needed to move to a more visible location. God provided the location through the willingness of members of the congregation to donate eight acres of prime land on US 421, not far from the original location.
There were bumps along the way – COVID, permits, skyrocketing costs – but the group never wavered. They put many long hours of hard physical labor into getting the building ready. They held steady and God was faithful.
The structure will seat 200, has Sunday School rooms, Children's Church space, an office for the minister, a fully equipped kitchen and spacious foyer to enter, complete with a welcome center and coffee bar. The sanctuary will double as a multi-purpose room and will be used to the fullest extent, according to Tim Heim, who ministers there. There is a nursery and all rooms outside the foyer have monitors. They have a conference/board room, that will be open to the public, according to Heim.
The new church reflects the old in many ways, and in another sense, completely different. The same message of the gospel will be taught, the same great music, with an updated "new tech" wireless sound room to enhance it. An old pew from the previous building now sits in the foyer of the new church. It's a reminder to never forget, but always press onward. The fifth Sunday will continue with the youth in charge of the service. "That is a true blessing," Heim noted. "After all, they are the church of today and tomorrow." The church has a growing youth and puppet ministry.
Heim began his ministry as a missionary in Arizona and graduated from Lincoln Christian College, IL, in 1997. He served as a second-generation firefighter with the Forest Service in Arizona. His roots stretch back to a grandmother in Osgood. His wife, Miranna, is an ISP 911 supervisor at the Versailles Post, but he says she is mostly his greatest support.
From 1855 when a group of people first met in a log schoolhouse until today when a group of people are meeting on US 421, much has changed, but many things remain the same. Generations of people are still coming to Shelby Christian Church, people are still working hard as they did back then to build a church, and the church building is still an open door for anyone who walks inside. Heim told the Osgood Journal, "We are a family here always waiting to adopt one more. The sign out front is just what it says, Welcome Home."
Heim and the congregation welcome anyone wanting to find a church to call home. "We're just Christ followers here," he concluded, extending the invitation one more time for others to join with them. Services are at 9 a.m. and 10 a.m. on Sundays.
A special dedication service is planned for August 13 at 10:00 a.m. that will include former ministers from the church over the years.