Six local grapplers advance to regional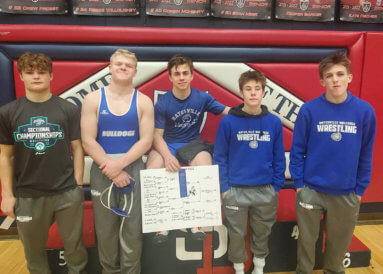 PHOTO COURTESY OF BATESVILLE AND MILAN ATHLETICS
Five student-athletes from Batesville and one from Milan will represent the coverage area in the upcoming regional round of the state tournament after qualifying as part of the IHSAA Wrestling Sectional this past Saturday afternoon at South Dearborn.

The 11-team field proved to be as tough as advertised with Batesville and Milan putting its individual wrestlers through the gauntlet. Through it all, those six combined regional qualifiers certainly earned their berth into the next round.

Of the six, one was an individual sectional champion as Batesville's Josh Mobley went 3-0 on the day to win the title as part of the 170-pound division. In doing so, Mobley not only became the Bulldogs first sectional champion since 2015, but also broke Will Amberger's school record for takedowns in a season with 123. Amberger and his record of 120 was set in 2015 en route to his sectional championship.

Alex Murphy finished runner-up in the 120-pound division with a 2-1 record to advance to the regional and he was joined by third place finishers Damien Dance and Chase Hamilton in the 152-pound class and 195-pound class respectively. The final regional qualifier for Batesville was David Maher who finished in fourth place as part of the 145-pound division.

Made up of freshmen, Milan's wrestling team put together one of its best efforts of the entire season. Kaleb Wilburn was the runner-up in the 138-pound division and is advancing to the regional while Cameron Gilb in the 152-pound class is an alternate after going for fifth place. Kyle Gotts and Landon Stanley were sixth place finishers in the 220-pound class and 285-pound class respectively.

Official team standings were not released by the IHSAA over the weekend and were not made available by time of print.
The IHSAA Wrestling Regional will be hosted by Richmond this Saturday and begin at 8 a.m.