So Loved closet is open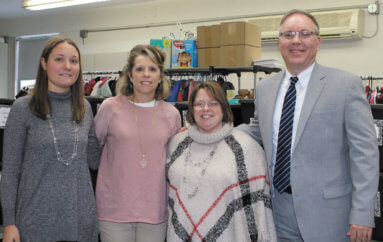 WANDA ENGLISH BURNETT PHOTO
Taking a look at So Loved Closet, you know a lot of people have been working behind the scenes for children in need.

Located within the Batesville Intermediate School there is a room dedicated to clothing for children in need. Kayla Suits, a CASA volunteer, knew of a child in need and went to her friend, Jamie Nobbe, a foster mom. They both know the struggle of providing for children. The ladies work for the Batesville school system and soon the word was out. Principal Dana Cassidy was supportive, along with Superintendent Paul Ketcham. They soon found an old computer lab room that wasn't being used after the inception of chromebooks. It was the perfect place and now it is full. About the idea of the So Loved Closet, Ketcham says he is proud of these ladies' passion for kids.

Nobbe began the T-shirt campaign for the initial start up of the So loved Closet, that denotes it takes a village. They received help from a friend at H&R Block and were soon up and running with 501 paperwork in place.

Neatly organized boxes upon boxes are located in the room, along with hanging clothes that include coats, pants, shirts, anything a child might be in need of including boots and shoes. There are also personal hygiene items, and fancy hair bows. "We've had many clothing donations," noted Suits, who calls Kris Beal, a "super" volunteer, who works in the room nearly every night after school hours organizing the items. "Our community has been absolutely amazing in supporting this organization," Suits noted. "We would not be where we are today without them." She said besides Beal, there have been other volunteers who washed, folded, and sorted clothing. "They say it takes a village to raise a child and we have been surrounded by a very wonderful village," Suits and Nobbe agreed.

The group does accept all gently used, stain, tear and odor-free clothing, shoes and coats, size newborn through juniors. They currently have a need for shoes, new underwear (bigger kids sizes), new socks, coats, toiletry items and diapers.

If you have a child in need, or know of a family who could use some help, the closet is open to all. This includes Ripley and Franklin counties. There is no paperwork to fill out, no qualifications to meet. Just email solovedcloset@gmail.com to find out if they are open, but mostly after school hours they are at the closet. They do not accept or give out donations during the school day due to not wanting to interrupt the learning process of the students there.

Just two moms who want all children to feel so loved put their ideas together and then in action to create a place where people have gone away crying because they were so blessed to have gotten much-needed items.