South places 2nd, Weiler 16th at state finals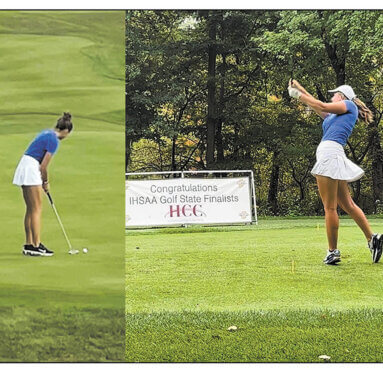 PHOTO COURTESY OF BATESVILLE GOLF
The state's best golfers invaded the Prairie View Golf Club in Carmel this past weekend and sitting near the top of the leaderboard by Saturday night was Batesville's Ava South and Addyson Weiler at the IHSAA Girls Golf State Finals.
South posted an impressive runner-up finish at the state finals during the two-day tournament while Weiler sat in 16th place out of over 100 competing golfers in the event.
The pair of golfers noted last week that the goal was to improve on their scores from a combined three prior appearances and Batesville's dynamic duo certainly did deliver in that aspect. That included South who spent both days making a major push for an individual state title.
South, who placed third overall a year ago as a freshman, fended off a bogey on Hole 13 and a double bogey on the 14th hole on her second round of 18 holes to post one-over par 73 to claim that second place spot. She finished one-under on her final four holes of the tournament including a birdie on Hole 16 that practically sealed that runner-up position to Westfield senior Samantha Brown who totaled a two-under par during her two days for the win.
Brown used a four-under par 68 on Friday to get out in front and distance herself a bit from the field as her Saturday score saw her shoot a 74. South's 73 was a constant number for the weekend as she also fired that 18-hole number in Friday's round, She sat two-over par after nine holes in the first round but used back-to-back birdies on the back nine to take her to one-over par by the end of the afternoon.
It was the third go-around for Weiler, a junior, and she shook off a rough Friday and made up for it with a really impressive round of 18 holes on Saturday.
Weiler struggled on a variety of holes on Friday and was forced to take a 10-over 82 in the first round but Saturday saw a resurgence that was perhaps the most impressive round of golf among all golfers in round two. She would birdie two holes on the front nine to go two-under for the day and would post a 38 on the back nine to finish up at even-par to bring her back into the fold.
That drastic progress allowed her to jump back into the Top 20 after sitting in 35th place after Friday. Her 16th place finish was her best finish in three appearances at the state finals.
Carmel won the team state title after a two-day score of 608 and Westfield finished runner-up at 617. Homestead, Noblesville and Center Grove rounded out the top five. Of local interest, East Central's Rowan Pies was also a Top 20 finisher, tying for 14th place after rounds of 81 and 72 last weekend.
When it comes to Batesville golf, the Lady Bulldogs will lose its leader on-and-off the course in senior Josie Meyer but the rest of the team will return which will include Weiler as a senior and South as a junior. There's no question that state title contention remains for the blue and white.