South Ripley announces spring sports winners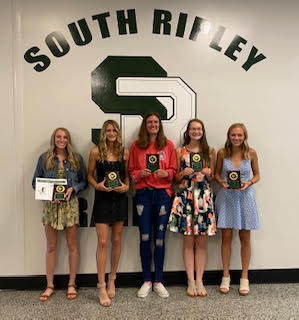 Submitted Photos
South Ripley High School wrapped up a successful 2021 spring sports campaign with the announcement of its award winners for the season in three different sports.
Track and Field was the first group to hand out awards this spring after holding its banquet in late May. The banquet was highlighted by recognizing the girls track and field team which won the Ohio River Valley Conference championship during the regular season. 
Lanie Nicholson and Emily Flood were each regional qualifiers while also being named Most Valuable Runner and Most Valuable Track and Field Performer respectively. Shelby Bastin was the Most Valuable Field Events Performer for the year while Lena Conradi was the Most Improved winner. The Senior Academic Award went to Ava Ralston. 
The boys side took part in a bit of a rebuilding campaign this year but still came away with success this spring. Ryan Miller was the team's lone regional qualifier and was named South Ripley's Most Valuable Field Events Performer. Blake Volz was the Most Valuable Runner and William Tunny was named Most Valuable Track and Field Performer. The awards were rounded out by Tanner Franklin being named Most Improved and Nick Zigan winning the Senior Academic Award and being recognized as the ORVC's Mental Attitude Award winner. 
The South Ripley baseball team won Class 2A Sectional 45 and finished its season in the regional round of the state tournament. 
Brady Linkel received the team's hitting and pitching awards while being named the Senior Academic Award winner. Fellow seniors Bryce Franklin and Cody Samples won Best Defense and the Mental Attitude Award respectively. Junior Zach Gentile won the Most Improved Award and senior Logan Eggleston won the team's personalized Charlie Hustle Award. The program's two lone junior varsity awards went to Braydon Sides who was the Mental Attitude Award winner and Aiden Baumer who was Most Improved. 
Softball not only won Class 2A Sectional 45 but also captured the regional championship en route to an Elite 8 finish in the IHSAA State Tournament. 
After a record-breaking year inside the circle and at the plate, Mady Tompkins received the hitting and pitching awards for the team while Ellie Waldron was named the Mental Attitude Award winner. The group's lone senior, Hailey Brown, was the Most Improved Award winner and Brionna Linkel picked up the Best Defense award.