South Ripley bests Milan 10-4 on the softball diamond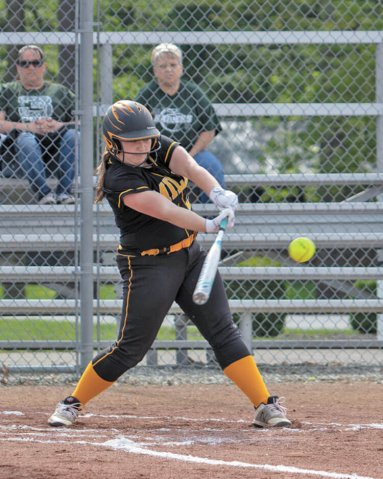 JARED ROGERS PHOTO
The South Ripley Lady Raiders went on a seven run streak in the sixth inning to break open the game and earn a win over the visiting Milan Lady Indians on Monday, April 29.
Before that, the game was close at 3-2 going into the bottom of the sixth inning. A two-run effort by Milan in the top of the seventh wasn't enough to pull back into the mix.
Ellie Waldron and Haley Gorrell led the Lady Raiders to victory with three hits apiece. Cheyenne Caplinger, Alexa Heidt, and Halee Smith each added two hits for their team, while Emily Campbell, Abby Bradley, and Mady Tompkins each added one hit.
On defense, Lady Raiders pitcher Mady Tompkins went the distance, striking out 15 batters while giving up three earned runs.
For Milan, Courtney Bruns and Erin Widener led their offense with two hits apiece. One of Bruns' hits was good for a triple, while one of Widener's was good for a double. Cassie Franklin and Mackinze Deffinger each added one hit. Widener pitched the whole game for Milan, striking out four while giving up nine hits and six earned runs.
South Ripley improved to 10-3 with the win, 4-2 in the ORVC. Milan dropped to 8-9, 5-3 in the ORVC.