South Ripley Elementary named STEM school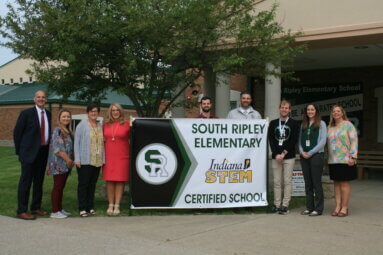 MELANIE FLODDER PHOTO
Excitement grew on Monday at South Ripley Elementary School as the news that the school had been named one of only 15 new STEM Certified Schools  - the only one in Ripley County. This announcement was made by the Indiana Department of Education. This means the school is a leader in science, technology, engineering and mathematics (STEM) education.

"With now upwards of 100 STEM Certified Schools across the state, these schools are leading the way in helping our students explore, engage, and gain experiences in STEM fields," said Dr. Katie Jenner, Indiana Secretary of Education, who was on hand Tuesday morning to help celebrate SRES. "I've directly witnessed several of these schools' innovative approaches to inquiry –and problem-based learning, as they integrate STEM across their curriculum and engage families and community partners to help students build knowledge and skills that will serve them throughout their lives." 
Dr. Jenner said South Ripley was an "academic superstar that could be seen in action" as she toured the school this week. "I am so impressed with people at the school and feel the energy radiating. I'm proud of their work," she told The Versailles Republican.

Throughout the building STEM was roaring with students in charge of their learning. The intense academics taught included the robot MILO, video recordings that occur on a daily basis and STEM activities throughout.

"This is a tremendous accomplishment for SRES. During a strategic planning session four years ago, our school board set the direction for having our schools become STEM certified," said South Ripley Superintendent Rob Moorhead. "The SRES staff accepted the challenge and worked very hard to achieve this certification. The leadership of SRES administrators Ryan Lauber and Kris Wood, and the tireless work of the STEM team including Brett Miller, Sheena Speer, Julia Heidlage, Leslie Rennie and Neal Herzog has resulted in SRES becoming the first STEM certified school in Ripley County."

To say Supt. Moorhead is proud, would be an understatement. He explained, "With an application that was described as "exemplary" by the IDOE, the SRES team earned 74 out of a possible 75 points on the STEM rubric. This certification shows that our students are highly engaged in learning STEM concepts across the curriculum at SRES as we fulfill our mission of educating students today to become responsible citizens of tomorrow."

SRES Principal Ryan Lauber noted, "South Ripley Elementary is extremely excited about becoming STEM certified through the Indiana Department of Education. Our application was the highest scored application ever received, and the IDOE has stated that SRES is a model for schools across the state looking to create a STEM environment for their students. The vision for this certification was set by our school board, and it was achieved with the hard work of our STEM committee. The teachers, students and parents of our community should be proud of this honor."

Administrators are quick to point out that this was a collective effort that included not only a great group of people at the school, but the students and parents who have also been an important part of making it all flow together.

According to information from the IDOE, the STEM Certified Schools program was created in 2015. It recognizes schools committed to teaching STEM disciplines beyond the classroom. STEM Certified Schools exemplify a highly innovative approach to education, employing a great deal of inquiry, project-based learning, community engagement, entrepreneurship, student-centered classrooms, integration into humanities and related arts and out-of-school STEM activities. For secondary schools in particular, earning STEM certification requires heightened intention and coordination in terms of vision, scheduling and interdisciplinary collaboration.