South Ripley golfers start season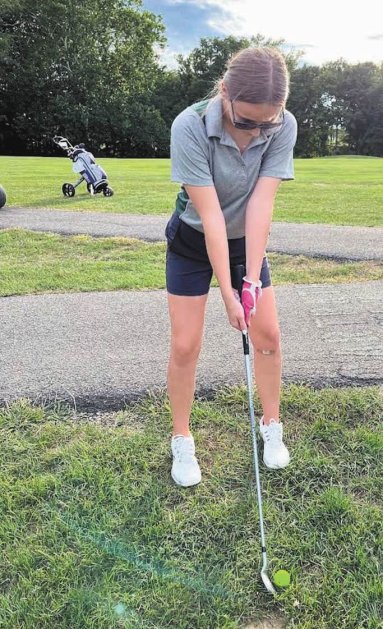 SUBMITTED PHOTO
South Ripley girls golf is officially back out on the course, having competed in three matches over the past week of the fall slate.

The latest of those matches came Monday and Tuesday of this week as the Lady Raiders placed second and third respectively on those days. South Ripley continues to improve with an inexperienced but eager group.

Monday saw South Ripley shoot a 252 at the North Branch Golf Course and finish second in a three-way match. Switzerland County won with a team score of 239 while Jac-Cen-Del competed but did not field a full team. Southwestern (Hanover) was scheduled to play but was unable to due to illness at the school.

The Lady Raiders played without Lilly Jones and Elizabeth Rea who started the year as the team's top two golfers. In their place was an improved Anna Block who improved six strokes from her first career match and shot a 61 while Lily Welch improved by seven strokes and carded a 62. Also seven strokes better was Hailey Richmond who was a stroke behind at 63 and Mady Hicks rounded out scoring with a 66, a four stroke improvement. The nine-hole event saw South Ripley's Emma McCarty improve by a stroke and shoot a 69 in a non-scoring round.

Jac-Cen-Del's lone golfer was Emma Wagner who finished the day with a 59.

Tuesday night saw the green and white place third at Hidden Valley with a nine-hole team score of 271. Block finished with a 65 for South Ripley while McCarty scored a 66 and Welch shot a 69. Richmond and Hicks each pieced together a 71.

Lawrenceburg won the event with a 232 and North Decatur was second at 256. Wagner was again the lone competitor for Jac-Cen-Del and shot a 65.

South Ripley goes up against South Dearborn, Shawe Memorial and Milan this evening in a four-way match.