South Ripley seventh graders win first SEIT championship since 1994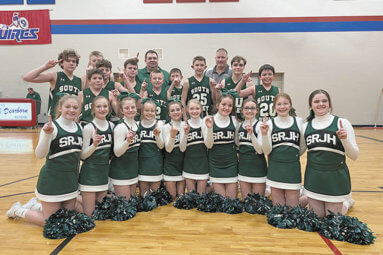 SUBMITTED PHOTO
South Ripley's seventh grade boys basketball team is the best in southeast Indiana after defeating South Dearborn 54-30 on the Squires' home floor to claim the Southeastern Indiana Tournament championship on Thursday, January 23.

The Raiders led 24-18 at halftime and went on to dominate in the second half with a 30-12 advantage to claim the team's first SEIT tournament championship in 26 years.

Of that second half run, Coach Rodney Gullion reported, "The Raiders went on a 12 to 3 run to close out the third and then scored 15 points in the first three minutes of the fourth quarter breaking the press with great ball movement and teamwork to seal the victory in a big way."

Cole Henry led his team with 13 points. Blaine Ward added 12, Peyton Bennett nine, Chancie Volz eight, Landen Asche six, and Roman Hite six.

The seventh grade squad ends their season with a 20-8 record, topped off by winning 12 of their final 14 games of the year. Coach Gullion expressed gratitude to the junior high staff, students, and fans for their support through the season and especially to help them get motivated for the championship game.