South Ripley to honor undefeated 1970 team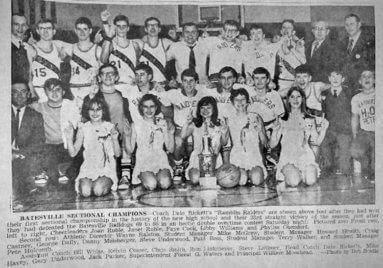 On February 1 at the annual Homecoming festivities, South Ripley High School will honor the 50th anniversary of the 1970 Raiders boys basketball team. The Raiders, coached by Dale Ricketts, finished the year with a final record of 25-1, winning the Ripley County Tournament and the IHSAA Sectional and Regional championships. The dream season finally came to an end with a loss to Indianapolis Crispus Attucks in the semi-state round of the historical single-class tournament.

Team members, coaches, cheerleaders and support personnel will be introduced at halftime of the varsity game with Jennings County. The community is encouraged to attend and recognize the 1970 team. The junior varsity game will tip off at 6:00 p.m. followed by the crowning of the homecoming king and queen prior to the varsity game.