Spark from 1954 Indians continues with NY team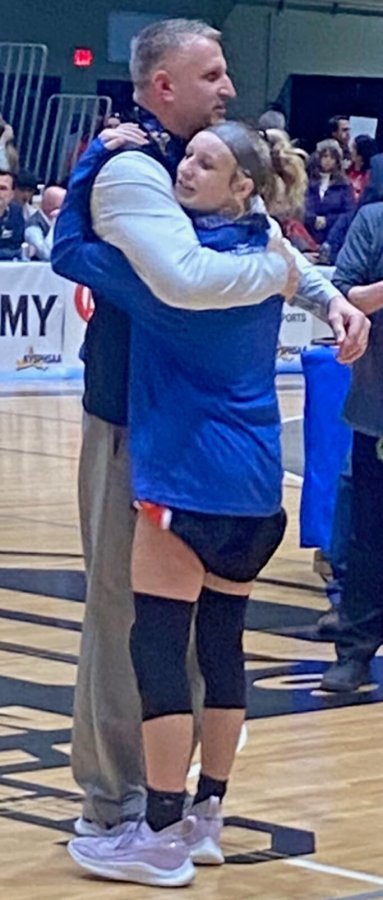 Submitted Photo
The love for basketball was born at Milan and has continued to be a lifetime affair for Michael Bree, who with his team just claimed the overall Class B Girls Championship for the State of New York.

Bree told The Versailles Republican it was a great feeling; one he's heard about since high school when he attended Milan and knew about the 19=54 Championship. A small school with a big heart and dedication has proven once again they can do a lot.

Basketball has always been a big part of Bree's life. He played in high school as a Milan Indian and graduated in 1995. He went on to Ball State where he earned a degree that allows him to be a business teacher. "I played all through college," he noted, although it wasn't on the college team.

Soon after graduating from Ball State, Bree took the position at Muncie Central as the boys' basketball coach. The knowledge that Muncie Central was the team that had to be beat in 1954, Bree felt the connection.

Bree met his wife, Keisha, at Muncie Central and she was from Waterloo, New York. The couple spent time between New York and Indiana and even moved a couple times. However, Michael said he knew that's where his wife's family was from and where she ultimately wanted to settle. So, after coming back to Indiana and coaching and teaching business at South Dearborn High School, the Brees finally made the decision to move back to Waterloo, NY, and stay there.

Bree has coached both boys and girls teams and says since he has three girls of his own, he will probably stick with coaching girls – at least at this point. The couple's daughters, Addison is a freshman on the winning team, Kinsley is 10 and Mila is 6. "They all love basketball," he noted.

Another interesting note for Michael was when he began teaching at Waterloo High School, the girls' team was known as the Waterloo Indians. This was another connection to his hometown of Milan. They have since changed the name to Waterloo Tigers, but Michael said he feels the connection.

His love for the game is what propels him to take his team to higher levels. There's not much he would rather be doing than being on the basketball court. "I love getting in the gym, love the game," he shared.

Bree said from his days of listening to the stories about the Milan Indians 1954 team, and playing basketball himself, he always knew he would coach. He says he is where he wants to be in life, enjoying his family and doing exactly what he loves.

The Waterloo Tigers took the State championship with a score of 58-48 and then took the Federation Tournament (where their team played schools from the Bronx to cap the win and make it sweeter).

Bree is the son of Janice Bree of Ripley County, who is proud of her son.

Editor's Note: If you know of someone who has moved away from the area and is excelling in their careers, please give us a call with how we can contact them. Our readers love hearing about those who might not necessarily live in the area, but have strong ties to the area. Contact wburnett@ripleynews.com