SR Cross Country runner excels – Lanie Nicholson is State Bound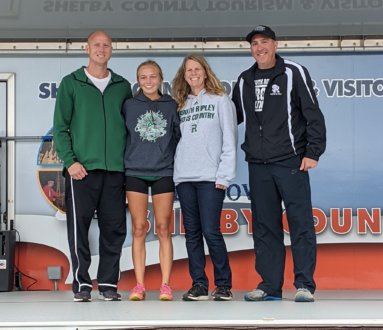 PHOTO COURTESY OF SOUTH RIPLEY CROSS COUNTRY
South Ripley senior Lanie Nicholson turned in without question her best postseason performance of her career this past Saturday morning and with one state qualifying position left to announce, it turned out that Nicholson's efforts would extend her cross country career.

Running in a time of 19:16.50 and placing 21st overall in Saturday's IHSAA Girls Cross Country Semi-State, Nicholson's name was called as the final individual qualifier for the upcoming IHSAA Cross Country State Finals. She becomes just the second runner in program history at South Ripley to qualify for the state finals. Megan Cole, a 2019 graduate, ran in the 2018 state finals.
The semi-state run, ran at Blue River Park in Shelbyville, saw several coverage area student-athletes compete with Nicholson serving as the highlight of the day. She was not alone however on the girls side of the run as teammate Deborah Murphy competed and finished in a time of 22:20.10. Also in the race was Batesville's regional champion girls team who finished eighth in the team standings with 245 points.

With a plethora of Indianapolis schools in the semi-state, Batesville's standing in the girls meet was considered a success. Carmel won the team championship with 46 points while Noblesville was runner-up at 78 points. Franklin Central, Westfield and North Central (Indianapolis) rounded out the top five while Avon and Zionsville sat at sixth and seventh place respectively. The only other area representative in terms of team standings at the semi-state was East Central who finished 15th overall with 358 points.

Batesville's season came to an end at the meet as no individual was unable to qualify for the state finals. Freshman Kaylynn Bedel wrapped up a successful first year with a 32nd place finish at 19:34.90 while Lily Pinckley was 61st in 20:06.50. Ava Hanson was right behind in 67th in a time of 20:10.70 while Megan Allgeier and Maria Lopez finished in times of 20:17.10 and 20:25 respectively. The Lady Bulldogs were rounded out by Sophie Myers in 20:28.60 and Madison Rahschulte in 22:20.50. 179 total runners participated in the meet.

The boys side of the semi-state saw Batesville finish 16th in the team standings with 420 points and fellow Eastern Indiana Athletic Conference team Rushville was 20th with 537 points. Brebeuf Jesuit won the team title with 60 points and Center Grove was runner-up with 77 points. Carmel was just behind in third place with 86 points while the top five was rounded out by Zionsville and Noblesville.

180 runners competed in the boys race and Batesville's top finisher was Ben Moster in 36th at a time of 16:20. Ean Loichinger was 78th overall in a time of 16:55.10 while Daren Smith came across the finish line at 17:35.20. Jacob Chapman ran in 17:51, Kyler Daulton ran in 18:41 and Eli Loichinger ran in 19:12.60. The Bulldog roster was finished out by Will Nuhring in 19:18.80.
Two other coverage area runners competed in the semi-state as Jac-Cen-Del's Josh Pohle finished his season in a time of 17:26.60 and Milan's Ben Riehle finished in a time of 17:44.80. No area boy runner qualified for the state finals.

The IHSAA Cross Country State Finals gets underway this Saturday in Terre Haute at the famous LaVern Gibson Championship Cross Country Course with the boys race beginning at 12 p.m. and the girls race, featuring Nicholson, beginning at 3 p.m.

All research to date currently shows that Nicholson is just the fifth South Ripley student-athlete to compete in a state finals event. She joins Megan Cole who competed in both cross country and track while 2010 graduates Lakin Davis and Thad Fleming competed in the golf state finals and track state finals respectively. Also a state competitor in track and field was Liz Hall, a 2002 graduate.