SR defense strikes in Sectional 45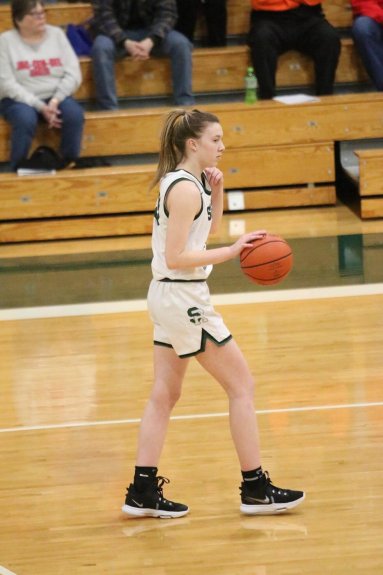 PHOTO BY LORI SAMPLES
South Ripley's win streak and stifling defense both made an appearance in the opening round of the IHSAA Girls Basketball State Tournament as the Lady Raiders mauled North Decatur 39-21 on Tuesday night in Class 2A Sectional 45 at Southwestern (Hanover).

Entering the postseason as the defending sectional champions, South Ripley made an early statement against a 16-win North Decatur in a matchup of two teams seen as favorites in the tournament. The Lady Chargers had put up points in a 53-42 regular season win over the Lady Raiders on November 30 but the green and white served notice when a victory mattered most.

That started in the first quarter as North Decatur went 0-of-4 from the free throw line and never connected from the field as South Ripley led 8-0 and the dismal shooting and Lady Raider defense only continued to perplex the Lady Chargers who only managed five points in the second frame and trailed 17-5 by halftime. The third quarter practically played out much like the first half ending and the lead shot up to a 25-9 score.

By the time North Decatur finally was able to slip by for a few more points, the game was well out of reach. South Ripley cranked up its offense to counter in the last eight minutes but the defense alone continued to be too much of an obstacle for a young Lady Charger squad. The Lady Raiders finished the night with 14 points to North's 12 points in the final frame.

South Ripley's defense -which is giving up just 33 points per game- is now ranked 15th overall in the state in scoring defense and seventh among teams in Class 2A.
On offense, the Lady Raiders got 10 points from senior Rachel Meyer while junior Emily Flood was right behind with nine points. Katelynn Samples and Gracie Gunter scored eight points and six points respectively. South Ripley scoring was rounded out by Sarah Meyer's four points and Lydia Cornett's two points.

North Decatur (16-7) was led by freshman Kacey Barker with seven points. Madi Allen and Ella Kunz each scored four points while Kacie Ogden, Sydney Rohls and Allison Whitaker scored two points apiece. The Lady Chargers finished going 2-of-15 from the free throw line.

Switzerland County (17-6) defeated South Decatur 42-31 in the first opening round game on Tuesday night. The Lady Pacers meet Southwestern (5-18) in the first of two semifinal games on Friday night while the second semifinal pits South Ripley against Milan (5-17).

South Ripley (16-8) defeated Milan 47-26 on November 9.