SR girls advance to RCT title game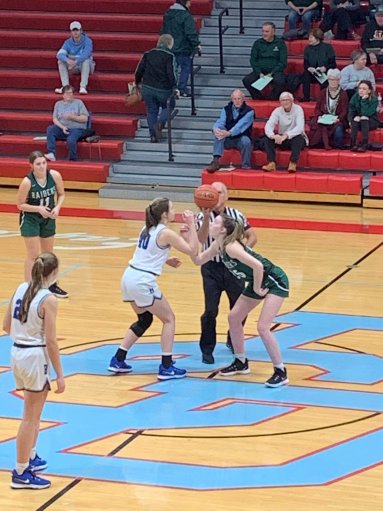 ROB LAFARY PHOTO
By no means was the first opening round game of the Ripley County Girls Basketball Tournament a display of well-executed offense but South Ripley was more than OK with the result despite the fact, pulling away from Batesville 34-27 in Osgood.

The Lady Raiders are now set to appear in their fourth Ripley County Tournament championship game in the last five years and mark back-to-back appearances in the title tilt. Batesville will make its second-straight appearance in the consolation game.

Woes on offense were evident in the first half but not to its full extent as both teams were able to put points on the scoreboard. Batesville used early buckets from Calley Kaiser and Emma Weiler to lead 9-8 at the first stop but South Ripley's ability to put up a plethora of three-pointers paid off and eventually helped grab the lead. Emily Flood, Sarah Meyer, Katelynn Samples and Rachel Meyer each knocked one down from beyond-the-arc in the first two quarters and Ripley led 20-17 at halftime.

But that is when offense came to a standstill and the two teams combined for just 24 points in the final two periods. For over seven minutes of the third quarter, the Lady Bulldogs had connected on a lone two-point field goal to cut the deficit to a point and South Ripley had been scoreless, failing to connect on a variety of open looks. But a Lady Raider surge with under 30 seconds left proved to be an early nail in the coffin.

Gracie Gunter -who had been scoreless in the first half- knocked down a triple and then scored on a breakaway layup with time expiring to give South Ripley a 5-0 run and a six point lead at the end of the quarter. Batesville made a fourth quarter push on a couple of occasions only to see the Lady Raiders knock down free throws to keep the Lady Bulldogs out of reach.
Gunter's 5-0 run and five made free throws lifted her to 10 points for the game which led all scorers. Emily Flood added seven points including a 4-of-4 clip from the charity stripe in the fourth quarter.

Batesville was led by Emma Weiler with nine points and Alyson Peters chipped in eight points.

The Lady Bulldogs (3-14) play Milan on Friday night at Jac-Cen-Del in the consolation game. Batesville defeated the Lady Indians 63-24 in last year's consolation contest.

South Ripley (10-8) gets ready for Class A No. 5 Jac-Cen-Del in Friday's championship, searching for its first county title since 2018. The Lady Raiders have not defeated the Lady Eagles in the final game since a 50-46 overtime victory in 2010.

TUESDAY'S RCT
OPENING ROUND GAME
at Jac-Cen-Del
SOUTH RIPLEY 34, BATESVILLE 27
SR – 8 12 5 9 – 34
BV – 9 8 2 8 – 27
SOUTH RIPLEY (10-8) – Gracie Gunter 10, Emily Flood 7, Katelynn Samples 6, Rachel Meyer 5, Sarah Meyer 3, Lydia Cornett 3, Alexa Heidt 0, Mya McNew 0.
BATESVILLE (3-14) – Emma Weiler 9, Alyson Peters 8, Calley Kaiser 6, Sophie Gessell 4, Oliva Raab 0, Cora Deputy 0, Sarah Ripperger 0.
3-Point Goals – SR 5 (Flood 1, S. Meyer 1, Samples 1, Gunter 1, R. Meyer 1), BV 0. Total Fouls – SR 11, 16. Free Throws – SR 11-18, BV 1-5. Fouled Out – BV: Peters.