SR girls stun No. 4 JCD for county crown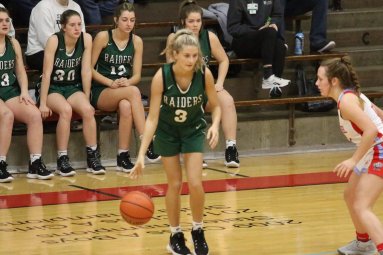 PHOTO BY LORI SAMPLES
Perfect game plan? South Ripley certainly did have one on Friday night against Class A No. 4 Jac-Cen-Del and the Lady Raiders executed that game plan to perfection as well en route to shocking the host Lady Eagles 47-39 in the girls championship game of the Ripley County Tournament.

The title is the first for South Ripley -and the first for head coach Matt McNew- since 2018 and ends a streak of three-straight titles for the Lady Eagles. The win for the Lady Raiders also erases a 57-31 blowout loss to Jac-Cen-Del back on November 13 in Osgood.

The name of the game for South Ripley on Friday was to slow the game down while pushing Jac-Cen-Del's offense out to uncomfortable territory. Senior Desiree Sparks thwarted that game plan with a slew of points on the interior and free throw line early in the first quarter as the Lady Eagles trailed just 10-9 but the Lady Raiders official clampdown shortly followed.
South Ripley held the Lady Eagles to just five points in the second frame and carved itself an eight point lead by halftime. A 12-8 frame in the third quarter surged the lead ahead to 34-22 heading into the fourth period. Jac-Cen-Del put together its best comeback attempt and scoring of the night in the final eight minutes, trimming the deficit down on a couple occasions to only two possessions but the Lady Raiders came up with key buckets at all the right times and preserved the upset and county championship.

Lady Raider defense limited Jac-Cen-Del to just 12 field goals and a rather dismal 32 percent shooting night while also collecting a total of seven deflections, six steals and three blocks. Sparks served as the Lady Eagles' lone double-figure scorer at 14 points but was held to just five points in the second half. Reagan Hughes added eight points but no other Lady Eagle scored more than five points in the contest.

On the flip side, it was by far the best shooting night of the season for South Ripley who shot 54 percent from the field including a 33 percent clip from the three-point line. Much of those numbers was due in large part to junior Emily Flood, who erupted for a career night en route to earning Ripley County Tournament MVP honors.

Flood, who came into the game averaging less than six points per game, immediately made her presence felt and that presence lasted a full 32 minutes to the tune of a career-high 22 points on 8-of-12 shooting and a 3-of-4 mark from the three-point line. The South Ripley guard scored every which way including clutch free throws down the stretch to help keep the lead intact. Flood's numbers also included four rebounds.

Senior Rachel Meyer added 10 points, seven rebounds and three assists and Katelynn Samples had a team-high 10 boards in the game. Sarah Meyer had seven rebounds. Gracie Gunter had nine points and four rebounds.

South Ripley (11-8) looks to keep momentum rolling on Thursday night at Rising Sun in an Ohio River Valley Conference game while Jac-Cen-Del (13-4) looks to rebound tonight on the road at Lawrenceburg.

FRIDAY'S GIRLS RCT CHAMPIONSHIP GAME
at Jac-Cen-Del
SOUTH RIPLEY 47, CLASS A NO. 4 JAC-CEN-DEL 39
SR – 10 12 12 13 – 47
JCD – 9 5 8 17 – 39
SR (11-8) – Emily Flood 22, Rachel Meyer 10, Gracie Gunter 9, Alexa Heidt 2, Sarah Meyer 2, Katelynn Samples 2, Lydia Cornett 0, Mya McNew 0.
JCD (13-4) – Desiree Sparks 14, Reagan Hughes 8, Reese Obendorf 5, Olivia Neal 5, Annabelle Williams 4, Jalee Rider 3, Aundrea Cullen 0, Emma Newhart 0, Julia Meyer 0.
3-Point Goals – SR 3 (Flood 3), JCD 2 (Hughes 1, Neal 1). Total Fouls – SR 15, JCD 17. Free Throws – SR 6-12, JCD 13-18. Fouled Out – None.