SR girls win thriller over JCD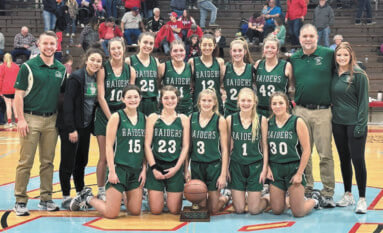 PHOTO COURTESY OF SR GIRLS BASKETBALL
Plenty was at stake on Thursday night at the Eagle's Nest as both South Ripley and Jac-Cen-Del battled not just for the Ripley County Publishing Pride Trophy but also a chance for at least a share of the Ohio River Valley Conference championship.

In the end, it was an offensive explosion in the fourth quarter by South Ripley that sealed the deal as the Lady Raiders used 15 points in the final eight minutes to complete a second half comeback and knock off host Jac-Cen-Del 44-43 in yet another classic between the two county rivals.

The game served as the regular season finale for South Ripley who now awaits the results of Thursday night's conference clash between Shawe Memorial and Rising Sun. A win for Shawe makes for a two-way tie between them and the Lady Raiders for the ORVC title but a loss to the Lady Shiners would allow the Versailles crew the championship outright for a second-straight year.

But early on it appeared as if Jac-Cen-Del had the edge, especially given its effort on the defensive end. After a slim 7-5 lead at the end of the first quarter the Lady Eagles kicked it into high gear, scoring 14 points in the second frame while the defense put South Ripley's scoring into quite a cold streak, limiting them to just seven points to extend the margin to 21-12 by halftime. However the Lady Raiders were able to finally thwart the frozen lull in the second half and the comeback was underway.

Using a 17-9 run in the third quarter, South Ripley surged right back into the game, tying it at 29-29 and then closed out the contest knocking down a pair of triples en route to 15 points while Jac-Cen-Del sat just behind with 14 points for the final one-point difference. The Lady Eagles had several chances to gain control but were negated each time.
Free throws proved pivotal in the final eight minutes with Jac-Cen-Del's offense missing four of its total 11 attempts.

South Ripley was able to get contributions from all five players in the score column, led by senior Katelynn Samples and junior Reese Obendorf with 12 points apiece with Samples scoring 10 of those points in the second half. Emily Flood followed closely behind at nine points, Lydia Cornett scored seven points and Mya McNew added four points.

As for Jac-Cen-Del, two of its top scorers were in double-digits but no other player scored more than six points. Olivia Neal led all scorers with 15 points and Reagan Hughes put in 13 points but the team's second leading scorer in Julia Meyer was held in check, only totaling four points. Kelsey Borgman had six points, Kaylin Hinners scored three points and Sophia Sullivan added the final two points.

South Ripley ends the regular season with an overall record 13-9 and a 5-1 mark in the ORVC. The Lady Raiders own a two-game win streak entering Class 2A Sectional 45 next week but face quite the challenge on Tuesday night at Switzerland County when they play heavily-favored North Decatur in the opening round.

Jac-Cen-Del (11-11, 3-2 ORVC) saw its five-game win streak come to an end. The Lady Eagles are scheduled to play Southwestern (Hanover) tonight at home in their final conference game.
TUESDAY'S GIRLS BASKETBALL GAME
at Jac-Cen-Del
SOUTH RIPLEY 44, JAC-CEN-DEL 43
SR – 5 7 17 15 – 44
JCD – 7 14 8 14 – 43
SR (13-9, 5-1 ORVC) – Katelynn Samples 12, Reese Obendorf 12, Emily Flood 9, Lydia Cornett 7, Mya McNew 4, Lexi Mozingo 0, Lexi Franklin 0.
JCD (11-11, 3-2 ORVC) – Olivia Neal 15, Reagan Hughes 13, Kelsey Borgman 6, Julia Meyer 4, Kaylin Hinners 3, Sophia Sullivan 2, Cheyenne Cullen 0.
3-Point Goals – SR 4 (Samples 2, Flood 1, Cornett 1), JCD 4 (Hughes 3, Borgman 1). Total Fouls – SR 17, JCD 10. Free Throws – SR 6-8, JCD 13-19. Fouled Out – None.