SR graduation, school opening still on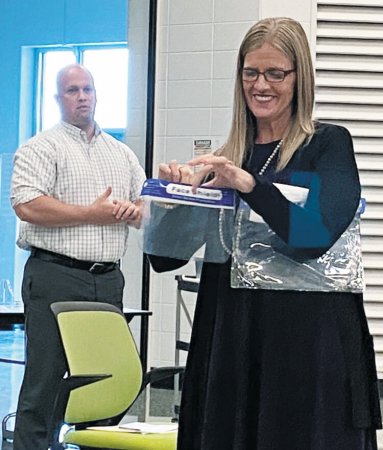 Wanda English Burnett
"Right now it's looking good for graduation," noted Superintendent Rob Moorhead at South Ripley School Board of Trustee's meeting Monday night, July 20. He cautioned that while they have done extensive planning and have a plan approved by Ripley County Health Dr. David Welsh, anything can change. Social distancing will be in place, masks are recommended, and hand sanitizer stations will be throughout the area that will be marked off for families.
Graduation is planned for Sunday, July 26 at 2:00 p.m. With 80 seniors, Supt. Moorhead said they do have Plan B, should their original plan be disrupted.
Enrollment for this school year is underway, with the superintendent encouraging parents to get online and get their student(s) registered. There are options for parents due to the pandemic. They can elect to have their child physically come to school, or sign up for full time online classes. Supt. Moorhead stressed that online classes is not the same thing as eLearning. These will be five-hour learning days for elementary students, and six hours for 7-12 grades. He noted it was a "robust program" designed for the same amount of time as a regular school day. Also if someone is not comfortable with their child coming to school and chooses online learning, that parent will probably not be comfortable in sending them to participate in athletics or extra curricular activities. "It just makes sense," Supt. Moorhead said, noting it was placed in the plan that way.  However, if a student is signed up for online and after two weeks decides it's really not for them, they can still come to school at that point. There will be a cutoff, but someone with second thoughts should be able to change after just a couple of weeks.
High school principal Mr Ralston noted, "Students taking online learning will have checkpoints. The teachers are really good, my daughter took two classes online and had Mrs. Nancy Durham," he noted. Durham is a retired teacher from South Ripley.
Dr. Welsh has reviewed the plan South Ripley administrators and team have come up with for opening school and approved it. He strongly recommended when the students could not properly social distance, they wear a mask. The lunchroom will have a different look with not as many students in it at a time and them sitting apart.
The school has secured 2600 face shields donated from Super ATV in Madison. These shields are made to fit smaller students (elementary) and/or high school students.  They have cloth facemasks from the local health department.
Supt. Moorhead noted that they have had nothing but positive contact with Dr. Welsh. He says he knows the best instruction for students occurs face to face. However, if that is not possible some of the year, they will roll into eLearning and continue to put forth their best effort to educate the students today for the world tomorrow. "We understand this is a stressful time. We care about our students and our community," Supt. Moorhead said.
Dawn Wehr, a parent of an elementary student, spoke at the meeting first thanking the school officials for making every effort to balance an unprecedented situation. She noted that she is employed with Cummins and in their facilities where masks are worn it makes all the difference. She said scientific evidence shows the positives of mask wearing and felt it would be good in the school.
Remember registration is happening now online and the bookstore hours are July 30 from 8 a.m. to 6 p.m. and July 31 from 8 a.m. to 3 p.m.