SR hosts Great Pumpkin Invite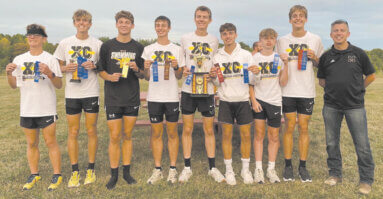 SUBMITTED PHOTO
Cross country runners from all across the area gathered in Versailles last Thursday night as South Ripley played host to its annual Great Pumpkin Invitational.
The annual event has been a long-time staple centered around the month of September, typically being held the week prior or week before the Versailles Pumpkin Show. Over 10 schools were represented at the race this past week.
It was no surprise that the boys invitational title was won by Milan who remains undefeated against local competition this fall. The Indians scored 25 points with Hauser a distant runner-up at 64 points and South Ripley placed third with 80 points. Shawe Memorial's 88 points and South Decatur's 135 points rounded out the top five. Jac-Cen-Del was the third participating coverage area school but did not have enough runners to field a complete team.
Milan took the top three individual spots in the race with senior Ben Riehle leading the pack and winning the invitational in a time of 16:35.50. Gabe Riehle was second in 16:57.60 and Lucas Cooney took the third place ribbon at 17:11. Teammate Nathan Voss found himself in the Top 10, placing seventh at 18:28.70. South Ripley had two Top 10 runners as freshman Mason Bascom was sixth in 18:20.20 and junior Luke Bradley crossed the finish line in 10th place at 18:48.20.
The Indians had four other finishers, led by Ayden Potts in 12th place out of 74 total runners. Others placing for Milan were Tyler Myers (25:46.90), Ethan Dehamer (32:08.90) and Dylan Thomas (32:09). Evan Eaglin and Jordan Davis finished 22nd and 23rd for South Ripley in times of 20:24.40 and 20:31.40 respectively. Junior Bradley Leach ran 30th in a time of 20:45.10 and the final three Raider runners were Blake Swinney (21:40.30), David Rutherford (22:20.30) and Logan Prince (27:57.20).
Jac-Cen-Del had just three of its usual four runners participate. Jacob Ricke led in 31st place at 20:56.10, Gabe Maloney was 36th in 21:32.70 and Marshall Johnson was two spots back in a time of 21:44.80.
A tiebreaker determined the winner of the girls race as South Dearborn had the upper hand inside the situation, beating out Southwestern (Hanover) after both teams scored 42 points. South Ripley placed third with 74 points, North Decatur sat in fourth with 88 points and South Decatur took fifth at 117 points. Jac-Cen-Del was the final complete team after scoring 149 points. Six schools had participants but not full teams, one of which was MIlan.
Two of three Milan runners placed inside the Top 10 of a run that was won by Southwestern's Victoria Gammons in a time of 21:01.40. Milan's Elly Potts was runner-up in 21:18.60 and teammate Hannah Cooney ran ninth in 23:52.10. The final runner for the Lady Indians was Sarah Lillis in a time of 27:59.20.
South Ripley's top two finishers placed back-to-back in 15th and 16th out of 58 total runners as Elizabeth McKittrick finished in 24:42.10 and Virginia Minch followed in 24:47.70. Cheyenne Wood continued her improvement this season with a 26th place spot in a time of 25:50.20 and two places back sat Chloe Ivey in 25:50.20. Other Lady Raider finishers were Margot Deslandes (28:27.90), Maria Belisardi (30:40.90) and Mady Tingle (32:14.70).
Allene Peters took 17th place and paced Jac-Cen-Del's pack in a time of 24:48.80 and Allison Peetz was back in 48th at 29:29.10. Other Lady Eagle Runners were Aliyah Karshner (30:52.90), Savannah Steele (32:49.80) and Rylee Reese (38:40.90).
The next race featuring the coverage area takes place tonight at the Batesville Invitational.