SR, Milan take boys soccer wins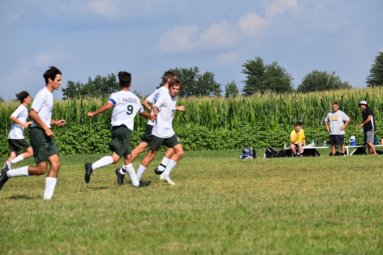 PHOTO BY AMANDA BETZ
South Ripley and Milan each earned Monday night soccer wins against Ohio River Valley Conference foes as the third full week of the regular season kicked off.

The Raiders returned to the win column after tying Shawe Memorial last week, scoring two goals in each half en route to a 4-2 home win over Switzerland County. South Ripley scored 20 seconds into the match on a goal by Zach Gentile and the Raiders' leading scorer added his second goal with 19 minutes left in the half on an assist by Logan Betz.

Gentile went right back to work in the second half, recording a hat trick on an assist by Ben Miller before connecting on his fourth goal of the night at the 30:55 mark. Switzerland County added its two goals in the final 18 minutes of the match but was unable to muster any further threat in the final 4:20 of play.

The goal number now stands in double figures for Gentile, a senior, who is already on pace to break the single-season scoring record in program history. He has eight goals in the team's last two matches.

South Ripley (5-0-1) was scheduled to host Rising Sun on Wednesday night.

As for Milan, the Indians scored often inside a 7-4 win at Rising Sun on Monday. The victory snapped a five match losing skid and gave the Indians their first victory of the season.

Statistics for the match were not reported by time of print.

Milan (1-5) hosts Switzerland County tonight.