SR teams win fire truck pull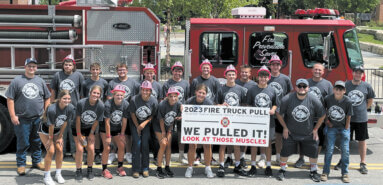 PHOTO COURTESY OF BRENDA STRIMPLE
A pair of South Ripley teams claimed trophies and combined to raise money for an outstanding cause at the annual Special Olympics Ripley, Ohio, Dearborn Counties Fire Truck Pull.
Money raised from the event goes towards local Special Olympics groups and helps them finance multiple competitions and outings throughout the course of the year.
Students and staff from South Ripley teamed up at the competition. The No. 2 Raider team of Brett Miller, Abigail Bosell, Claire Samples, Sophie Lauber, Ellie Combs, Carson Fisk, Alexa Yeomans, Adryn Littrell, Jeremy Parker and Gabe Stewart won the High School Pull Challenge while another group of Raiders turned in quite the pull and in less than a minute.
Kyle Jolly, Reese Obendorf, Damon Riley, Mason McNew, Daymon Speer, Marc Miller, Katie Miller, Ethan Schmaltz, Drew Volz, Chancie Volz and Trey Bush earned top honors as part of the Combined Weight Pull Competition, pulling in a time of 57.66 seconds with four pullers. Both Volz brothers, Schmaltz and Bush, weighed in at 600 pounds a group, then pulled the 20-ton fire truck 50 feet on the asphalt. The quartet beat their competition by 26 pounds to claim the win.
Overall, South Ripley raised $1,754 for the Special Olympics. It is the first of many events that the school is set to participate in as part of its continuous fundraising efforts for the organization.