SR to have traditional graduation ceremony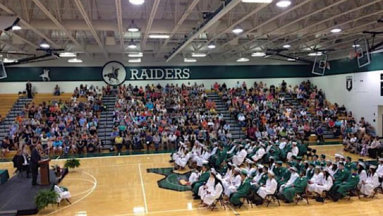 On Sunday, July 12 graduating seniors from South Ripley High School will be gathering at the SRHS gymnasium for a commencement practice. This has been a long time coming since the originally planned date in May, but one Supt. Rob Moorhead thinks is merited. He noted that the South Ripley School Corporation is proud to be hosting a traditional graduation ceremony to recognize the accomplishments of the Class of 2020.

The superintendent, board of trustees and others have consulted with Ripley County Health Officer Dr. David Welsh to make sure they provide a safe event for the commencement exercises on July 26 at 2:00 p.m. The doors will open at 1:00 p.m. with guests entering Door 10. They must bring their signed waiver form to enter. Graduates will enter at the side door to the cafeteria.

There are guidelines and each student has been apprised of those. They only have six tickets per student. Family members will be allowed to sit together in six-seat "boxes" with appropriate distance planed between boxes of seats for other families.

A waiver will be signed by each graduate and their guests in order to attend the ceremony.

Attendance at the ceremony is voluntary for the seniors. Any students or guest with concerns about their health and safety may choose not to attend. They will still receive their diplomas.

ETC Sports will be providing a live stream of the ceremony for anyone unable to attend in person. Access to digital copies of the ceremony will be made available for graduates, according to Supt. Moorhead.

Guests who are 65 years of age or older, have pre-existing conditions, or are considered high-risk for COVID-19, should take additional precautions and check with their medical provider before making the decision to attend. Anyone having symptoms of respiratory illness such as fever, cough, chills, etc. on the day of the event should not attend.