SR's Alex Kieffer recognized by Rep. Frye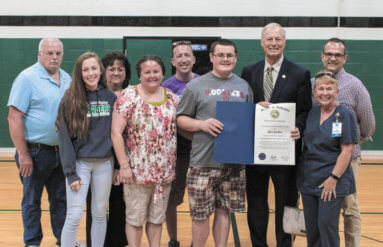 SUBMITTED PHOTO
South Ripley high schooler Alex Kieffer was surprised with a convocation at his school on Monday, May 20. District 67 State Representative Randy Frye presented Kieffer with a proclamation in front of his peers, honoring Kieffer for being a finalist for Indiana's Special Olympics Athlete of the Year award. That award was presented by the Indy Star as part of their annual Sports Awards, where Alex and his family attended ceremonies on May 5 in Indianapolis. Kieffer was among three finalists for Athlete of the Year.
At Monday's gathering, South Ripley Superintendent Rob Moorhead introduced Kieffer and congratulated him on his accomplishments in Special Olympics over the past year. Representative Frye read the proclamation, stating, "This achievement is indicative of your outstanding commitment to hard work, leadership, and dedication to the Special Olympics of Ripley-Ohio-Dearborn. Congratulations on this exceptional honor and I wish you nothing but the best in your future endeavors." The proclamation was signed by Representative Frye and District 43 State Senator Chip Perfect.
Among Kieffer's many activities, he has recently competed at the national level in Special Olympics unified bowling, and is a member of South Ripley's track and field team. In 2018, Kieffer earned three gold medals at the Special Olympics USA Games held in Seattle, Washington.